Taco Bell's Waffle Taco Arrives. How Does It Taste?
By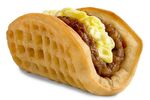 After two years of testing and teasing, heralding and hyping, Taco Bell today launches breakfast nationwide. Alongside such conventional items as breakfast burritos and hash browns, the menu features the much-anticipated Waffle Taco, which, in case you haven't heard, is a taco-shaped waffle shell stuffed with eggs and either sausage or bacon served with a side of syrup.
Yum has certainly drummed up lots of interest in the launch—including contests to win such prizes as Waffle Taco pajamas and pillow cases—but amid all the buzz, curious consumers still wonder: How does this breakfast "sandwich" taste?
Not too loco. Similar to Dunkin' Donuts' bacon-and-egg sandwich served in a doughnut last year, the Waffle Taco is far less strange to the tongue than to the eyes. Nothing is particularly weird, after all, about eating syrupy waffles, eggs, and meat for breakfast—it's just that the new waffle design creates a vessel to get it all into your mouth in one bite, with one hand.
As we've already seen with Dunkin's Waffle Breakfast Sandwich and McDonald's McGriddle (and, to a lesser extent, Wendy's pretzel buns and brioche bun sandwiches), this is really another example of bread innovation, although Taco Bell has bumped it up a notch.
The breakfast launch, along with mobile ordering, is part of the chain's efforts to woo millennials, double revenue, and add 2,000 restaurants by 2022. "Taco Bell Breakfast will be one of the brand's priority initiatives of the year," Taco Bell President Brian Niccol said in a statement. About 5,500 of Taco Bell's 6,500 U.S. locations will offer breakfast, which will be served from 7 a.m. to 11 a.m.
Here's the full menu:
• Waffle Taco (sausage or bacon): a warm waffle wrapped around a sausage patty/bacon and scrambled eggs, served with a side of syrup;
• A.M. Crunchwrap (bacon, sausage, or steak): an entire hash-brown patty, scrambled eggs, cheddar cheese, and bacon/sausage/steak wrapped in a warm flour tortilla and grilled;
• A.M. Grilled Taco (bacon or sausage): scrambled eggs, cheddar cheese, and bacon/sausage folded in a warm tortilla and grilled;
• Sausage Flatbread Melt: Warm flatbread filled with a sausage patty and cheddar cheese and grilled;
• Steak & Egg Burrito: scrambled eggs, cheddar cheese, thick cut steak, wrapped in a warm flour tortilla;
• Cinnabon Delight: Crispy, bite-size pastries filled with Cinnabon frosting;
• Hash Browns;
• Coffee;
• Orange Juice.