Samsung Objections Fail to Stop Early Release of S5
Jungah Lee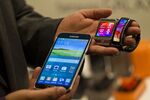 Samsung Electronics Co. failed to keep its new Galaxy S5 smartphone from going on sale early in South Korea today as SK Telecom Co. and other carriers try to work around penalties imposed by the national regulator.
The world's largest mobile phone maker planned to release the phone on April 11, yet that date would be in the middle of state-imposed suspensions preventing SK and KT Corp. from doing business. LG Uplus Corp.'s suspensions surround that date.
Samsung is getting drawn into a battle among Korean carriers for users, with illegal discounts prompting the government regulator to limit their ability to sign up new customers for 45 days. Samsung is counting on the marquee device to maintain its lead in a global smartphone market where it competes with Apple Inc. for high-end shoppers and Chinese producers including Xiaomi Corp. target budget buyers.
"We are very puzzled," Suwon, South Korea-based Samsung said in an e-mailed statement. "SK Telecom strongly asked for an earlier release of the product but we delivered our stance that the global release date of April 11 remains unchanged."
Shares of Samsung rose 3.7 percent to 1,333,000 won in Seoul. The stock has dropped 2.8 percent this year, compared with the 1.7 percent slide in the benchmark Kospi index. The shares fell 9.9 percent last year, the first annual decline since 2008.
Government Penalties
"We decided to release the product for a wider consumer choice of handsets before our operation suspension begins on April 5," Irene Kim, a spokeswoman for SK Telecom, said in an e-mailed statement today.
Consumers can start buying the Galaxy S5 for 866,800 won ($808) from SK Telecom's 3,000 retail stores and website from today, South Korea's largest carrier said in an e-mailed statement. Existing customers of KT and LG Uplus can purchase the device under certain conditions, the companies said.
"I haven't even unpacked it yet but I'm excited to have it," said Ham Kyoung Jin, the head of application developer Hyundai Mobile Co. The 32-year-old traveled about 90 miles "just to get this new phone" at an SK store in Seoul.
The Ministry of Science, ICT and Future Planning said March 7 it will ban SK Telecom from signing up new customers and from offering phones to users who want to change their devices without certain conditions for 45 days starting April 5 and ending May 19. Second-ranked KT currently is banned until April 26, while restrictions on LG UPlus are in place until April 4 and then resume April 27.
Fingerprint Reader
The new Samsung device enters a smartphone market where global growth is expected to slow to 6.2 percent in 2018 from 19 percent this year, research firm IDC said last month.
"Unlike the early stages of the domestic smartphone market, the power is now equally balanced between carriers and handset makers because so many handsets are in the market now," said Kim Jang Won, a Seoul-based IBK Securities Co. analyst said today by phone.
Samsung unveiled the S5 at Barcelona's Mobile World Congress in February, choosing a more low-key stage for the device than it did a year earlier with the S4's gala at New York's Radio City Music Hall. The company sells one of every four mobile phones in the world.
Apple, Huawei
The Galaxy S5 has a fingerprint reader with a full high definition 5.1-inch display on an active-matrix organic light-emitting diode, or AMOLED, screen. The back of the phone has a leather feel while the device is designed to withstand 30 minutes at the bottom of a meter-deep (3-foot) pond.
The main camera has a resolution of 16 megapixels, compared with 13 megapixels on the S4 model, and the battery will last 20 percent longer than its predecessor, Samsung has said.
"Consumers are showing fairly good interest in the new phone because of its interesting features, such as fingerprint recognition," said Pak Kyung Hoon, 24, a manager at SK Telecom's Jonggak retail store in Seoul.
Samsung had 29.1 percent of global smartphone shipments in the December quarter, compared with 17.6 percent for Apple and 5.7 percent for third-place Huawei Technologies Co., according to data compiled by Bloomberg from IDC.
Apple's iPhone 5s, which went on sale in markets including China, Japan and the U.S. on Sept. 20, has fingerprint-reading technology.
Samsung shipped 63.5 million units of the 5-inch S4, according to the median of three analyst estimates. The 4.8-inch S3 shipped about 65.6 million units, according to analysts.
Apple sold 51 million iPhones in the December quarter alone, and this year started selling the devices through China Mobile Ltd., the world's largest carrier with about 776 million subscribers.
In January, Samsung posted a 5.4 percent rise in fourth-quarter net income to 7.22 trillion won ($6.7 billion), its slowest profit growth since 2011.
Before it's here, it's on the Bloomberg Terminal.
LEARN MORE