Panasonic Seeks 34% Sales Boost by 2018 on Battery Push
Grace Huang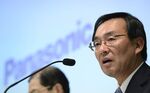 Panasonic Corp. plans to boost sales by about 34 percent during the next five years as it seeks to expand in areas targeted for growth, including its lithium-ion battery business.
The consumer electronics company targets 10 trillion yen ($98 billion) in revenue in the 2018 fiscal year, President Kazuhiro Tsuga told reporters in Tokyo yesterday. That compares with the 7.48 trillion yen in the fiscal year ending March 31, according to the average of 19 analyst estimates compiled by Bloomberg. Panasonic shares fell.
Panasonic is a third of the way through its three-year plan to achieve an operating profit of at least 350 billion yen by the year ending March 2016 by focusing on growing businesses after consecutive record losses. The automotive and industrial systems unit, which supplies Tesla Motors Inc. with battery cells, accounts for about a third of sales and is targeted for growth as the company ends production of plasma TVs.
"Our battery production depends on the sales of Tesla," Tsuga said yesterday. "Tesla wants to make cars more affordable and we would like to cooperate as much as we can."
The Osaka-based company will cut the number of business units to 43 from 49 while targeting sales of 7.75 trillion yen in the fiscal year starting April 1. Panasonic also is planning to boost operating income to 310 billion yen, compared with 295 billion yen this year, according to analyst estimates.
Tesla 'Gigafactory'
Panasonic shares fell 2.3 percent to close at 1,164 yen in Tokyo trading, extending a 4.9 percent loss this year. The benchmark Topix index added 0.8 percent.
"They need to go overseas to achieve the target, it will require more than restructuring," Damian Thong, a Tokyo-based analyst at Macquarie Group Ltd. said yesterday of the 10 trillion yen sales goal. "It is a much higher target than its current revenue and I think it is challenging."
Panasonic is seeking acquisitions and partnerships related to its housing and automotive businesses, the company said in October. The electronics manufacturer extended a contract with Tesla to supply 2 billion cells of lithium-ion batteries in the four years through 2017. The electric carmaker may partner with Panasonic for a "gigafactory," Tesla Chief Executive Officer Elon Musk has said.
Tsuga has suspended plasma panel production, downsized smartphone and circuit-board businesses, and sold chip factories to Israel's Tower Semiconductor Ltd. during the last year. Panasonic acquired a Turkey-based wiring company last year for about $460 million.
The company is forecasting 100 billion yen in net income for the year ending March 31, while the average estimate of 19 analysts compiled by Bloomberg was for 125.6 billion yen.
Before it's here, it's on the Bloomberg Terminal.
LEARN MORE