NCAA in Turmoil: Why UNC Can't Get Past Its Fake Classes Scandal
Paul M. Barrett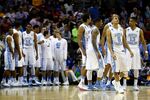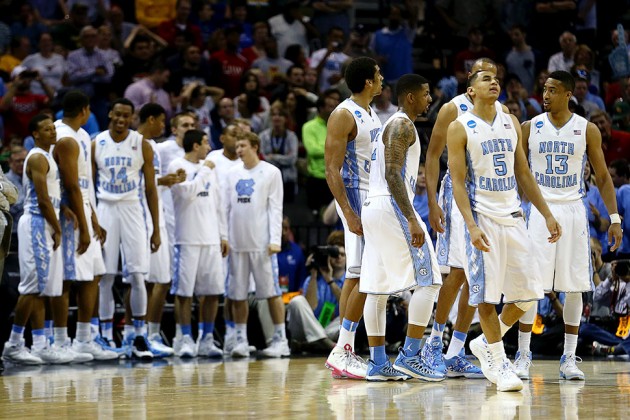 One of America's most popular industries—college sports—has slipped into a morass of scandal and hypocrisy. The University of North Carolina, a storied academic and basketball powerhouse, represents the debacle. This week, in response to a devastating March Madness-themed report from HBO's Real Sports, UNC demonstrated yet again its preference for public-relations spin rather than candor, contrition, and real change. Since Chapel Hill stands for the larger debate—and this is a huge business story—UNC's response warrants close scrutiny.
First, the big picture: NCAA Inc., a $16 billion-a-year business, faces threats on several fronts, none more daunting than a newly reenergized player unionization drive. The National Collegiate Athletic Association is also defending against several lawsuits brought by heavy-hitting attorneys demanding that undergraduate athletes get compensation and medical care commensurate with their central role in a lucrative sports-and-entertainment empire. At the moral core of all this controversy is the emptiness of the NCAA's claim that undergraduate football and basketball players are already paid adequately in the form of subsidized education. The emptiness—and the exploitation—arise from this hard reality: While athletes in revenue-generating sports may have a shot at a degree, the education they receive all too often amounts to a fraud.
Which takes us to HBO and the Tar Heels. On March 25, Bryant Gumbel's show did a first-rate piece on how the NCAA's eligibility rules inspire universities to steer football and basketball players into Potemkin classes that propel athletes to a degree of little use after they graduate. UNC took this corruption to an extreme by offering hundreds of fake lecture courses that never met. That travesty has been well established, in large part because of the reporting of the News & Observer in Raleigh and the whistle-blowing of a courageous UNC campus tutor named Mary Willingham. (I profiled Willingham in a Bloomberg Businessweek cover story titled "No Class.")
HBO did a great service by getting two former UNC football players, Michael McAdoo and Bryon Bishop, to explain on camera that athletic department staff members directed them to take fake classes to maintain their academic eligibility. HBO also put on camera former athletes from other schools giving similar accounts, underscoring that UNC is far from unique.
HBO's calm presentation of this first-person testimony underscored the rock-solid credibility of these abashed young men, confessing that they'd allowed themselves to be manipulated. There was no escaping that the former players share blame for the corruption—no one held a gun to their heads—or that the universities in question bear the lion's share of the culpability. The universities, after all, are the adult-run, revenue-generating, and, in UNC's case, taxpayer-underwritten institutions presiding over a dishonest education system.
UNC refused to discuss these matters with HBO. That kind of cowardice is never a good sign. What's worse, the university's top spokesman, Joel Curran, issued a written statement after the fact, illustrating UNC's preference for obfuscation. Curran trotted out tired entries from a dated PR handbook: 1.) HBO trafficked in "old news." 2.) The problems have been investigated repeatedly—in "seven reviews." 3.) Whatever fraud existed, many reforms have been instituted. 4.) And, in any case, a bunch of confusing statistics prove that everything is just fine. (You can read Curran's full statement here.)
Let's go through his claims in order:
1. It's not "old news" that UNC's athletic department steered varsity athletes to fake classes. Carolina still won't clearly admit that this occurred and still hasn't held anyone from the athletic department responsible. No one. Who in the athletics hierarchy knew about the fraud, and when did they know? Did members of UNC's 2005 and 2009 national championship basketball teams participate in the rampant academic flimflam? Why hasn't the NCAA investigated any of this?
2. Seven reviews? That the university has spent years sponsoring whitewashes that it calls "reviews" is part of the problem, not the solution. UNC has implicitly acknowledged the inadequacy of its past "reviews" by initiating an eighth—this one by a former federal prosecutor. In due course, we'll see whether he gets to the bottom of things. Meanwhile, UNC should be apologizing for its feckless reviews, not boasting about them.
3. Lots of reforms? How can you reform something you haven't admitted happened—namely, that the athletic department put its charges in fake classes? To make amends, UNC must first come to grips with what's transpired.
4. Curran noted that a lot of UNC athletes get grades of B or better, that many make honor roll, and so forth. That's never been in dispute, however. Mary Willingham has stressed from the outset that half of UNC's 800 varsity athletes do well academically; another 200 or so do pretty well. Most of the three-quarters of the athletes who are not a cause for worry play nonrevenue sports (soccer, tennis, etc.). It's the scholarship recruits in basketball and football—the revenue sports—who are at the heart of this debate. The aggregate statistics are another obfuscation play. (UNC professor Jay Smith, an accomplished historian, dissects Curran's distracting figures in more detail here.)
Bottom line: UNC has an opportunity to come clean about an unfortunate legacy and assert the kind of academic leadership NCAA Inc. desperately needs. What a turnaround story it could be. Misleading PR, though, won't do the trick.
NOTE: Peter Grauer, the chairman of Bloomberg LP, which owns Bloomberg Businessweek, is a trustee of the University of North Carolina at Chapel Hill and sits on its Foundation Board and the UNC Global Research Institute Board.
Before it's here, it's on the Bloomberg Terminal.
LEARN MORE