GameStop Will Open More Stores That Don't Sell Games
By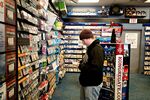 GameStop makes its living selling video games, but it's increasingly interested in selling itself as a place with access to gamers.
Last year it shut down about 2 percent of its stores, and Thursday announced plans to close another 2 percent this year. Considering that the company has been on death watch for years, and that Wal-Mart just said it's getting in on GameStop's core business, it would be easy to take this simply as a sign of long-term contraction. Not quite: Instead, GameStop plans to spend more than $35 million to open 300 to 400 retail locations focused on selling other types of electronics.
This doesn't come completely out of the blue. The company already has more than 200 stores focused on selling phones for AT&T and Apple, and the new expansion will include fitness gear and wearable computing devices. For now this business accounts for a tiny proportion of its overall revenue, which makes sense—there are about 6,500 stores focused on video games.
Still, while GameStop executives insist everything is just fine with its primary business, there are serious concerns about the long-term viability of selling used video games in physical stores, and these will persist so long as there's an Internet. The company's prediction about how much business it would do this year, which it also discussed Thursday, was below what analysts had expected.
But like any retailer smart enough to see the writing on the wall, GameStop says it is something more than a network of stores. The company is already its own video game publisher and, depending on who you ask, a de facto provider of no-fee banking services. But its main claim on the future is its 27 million-member loyalty program known as PowerUp Rewards.
Ostensibly a way to give discounts to regular customers, the program is also a data collection service on the lives and times of people who buy video games. GameStop uses what it learns to decide which stores it can afford to close and where to open stores selling nongaming products. The company says it can identify between 50,000 and 100,000 people in the vicinity of a new Apple or AT&T location and try to lure them in. Earlier this week the company said it would begin working with Texas A&M's Center for Retailing Studies to study the potential to improve personalized services at its stores.
This capability will likely make other companies with things to sell to similar demographics eager to get in on the action. "Those companies really need better and more sophisticated distribution that can present their products in appropriate ways," Michael Hogan, GameStop's executive vice president for strategic business and brand development, told analysts in a conference call. "People are coming to our door going, 'Hey, can you distribute some of our other technology products?' And it's working pretty well."