College Athletes Can Unionize, and the NCAA's Troubles Worsen
Paul M. Barrett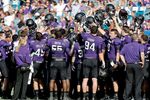 The very foundation of the $16 billion-a-year college sports industry is trembling. In a landmark ruling, the National Labor Relations Board said that Northwestern University's football team has the right to unionize.
With this pronouncement, the NLRB forcefully challenged the National Collegiate Athletic Association's core premise: that undergraduate athletes are Platonic amateurs, compensated only by scholarships and education. Wrong, said the NLRB's regional director in Chicago. They're employees, and they get to create a union board to argue for their rights.
If this ruling holds—and Northwestern immediately vowed to appeal to the full labor board in Washington—it could add momentum to a range of lawsuits pending against the NCAA, seeking compensation for current and former players and branding the sports association an illegal "cartel." This is huge. If schools have to pay—and listen to—the football and basketball players who generate all those billions of dollars, we could see a wholesale restructuring of the uniquely American arrangement of a massive sports business being situated within institutions of higher education.
My colleagues at Bloomberg News expertly survey the particulars of the NLRB fallout:
"The NCAA, while not a party to the NLRB action, said in a statement that it disagrees with the decision and opposes a move to 'completely throw away a system that has helped literally millions of students over the past decade alone to attend college.' The Northwestern players trying to unionize submitted a petition to the NLRB in late January, seeking to give 85 scholarship players the right to vote on representation and stating that National Collegiate Athletic Association rules were unjust.

"The group is trying to secure guaranteed coverage of sports-related medical expenses for current and former athletes, as well as compensation for sponsorships. The players also are seeking to create a trust fund to help former players finish their degrees and push for an increase in athletic scholarships. … The 123 schools in the NCAA's Football Bowl Subdivision turned a $1.3 billion profit on $3.2 billion in revenue in the fiscal year ended June 2013, according to the data that schools submit to the U.S. Department of Education."
On the one hand, the NLRB ruling is revolutionary and shocking. On the other hand, it merely reflects reality. Kain Colter, the Northwestern quarterback who's leading the unionization drive, has testified that players routinely spend 40 to 50 hours a week on football. That's a full-time job. In his case, the commitment discouraged him from entering Northwestern's pre-med program. While the average competitor on a college tennis or field hockey team may be able to juggle a demanding academic schedule with athletic commitments, the "revenue sports"—football and men's basketball—are bruising full-time jobs.
The notion of student athletes as employees is less far-fetched than it sounds. Historians of college sports have noted that the NCAA decades ago invented the concept of the "student athlete" to protect universities against workmen's compensation claims by injured former competitors. The NLRB's ruling should help erode the fiction that membership on a Division I football squad is just another extracurricular activity, akin to student council or the debate club.
If Division I schools actually extended themselves to assure that somehow their football and basketball players did receive first-rate educations—by means of preenrollment remedial help, substantive campus tutoring, and academic follow-up after sports careers conclude—there might be a stronger argument for maintaining the current deal: athletic services in exchange for a subsidized degree.
But the most scandalous and exploitative aspect of the way the NCAA operates is that many revenue sport athletes are kept academically eligible without receiving a serious or useful education. For an illustration of the phenomenon, look no further than the still-unfolding fiasco at the University of North Carolina, where football and basketball players for years were funneled into fake classes that never met. I wrote a cover article for Bloomberg Businessweek on what UNC shows us about the state of college sports. The News & Observer in Raleigh has doggedly unearthed the key facts surrounding the scandal in Chapel Hill. And HBO Sports this week broadcast an excellent segment on UNC and college athletes receiving empty degrees.
Many, many questions remain unanswered. How would a college athletes' union function in practical terms, what with the constant churn of graduation and some of the best performers departing for the pros after only a year or two on campus? Would some schools—Northwestern, perhaps—simply pull back from Division I sports if they're obliged to treat students as employees? And what about all the students in less-demanding sports? Will the volley ball team unionize?
It will take years to sort out. But change, big change, is coming.
Before it's here, it's on the Bloomberg Terminal.
LEARN MORE