Citigroup Fraud Stings Mexico Star as Medina-Mora Chased
Dakin Campbell, Max Abelson and Ben Bain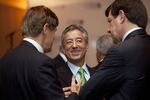 It looked like the start to another fine year for one of Mexico's most powerful bankers. Citigroup Inc. Co-President Manuel Medina-Mora held court last month at a Mexico City breakfast where colleagues talked shop over mango, melon and banana. He sat at the right arm of the nation's president at another February meeting when Enrique Pena Nieto toasted the bank's drive, charity and influence.
Medina-Mora, 63, now faces another kind of dialogue.
The Federal Bureau of Investigation is examining Banamex, the bank's unit in Mexico. Senators there said last week they want Medina-Mora, who's also chairman of the franchise, to testify about $400 million of loans to oil servicer Oceanografia SA the bank called fraudulent. Citigroup is conducting its own probe and cited control issues unrelated to the fraud when it cut his 2013 pay this month to $9.5 million from $11 million.
With Oceanografia seized by Mexico, the fraud will test a leader who has flourished at the intersection of the country's financial and political power, according to interviews with a dozen current and former executives. Colleagues of Medina-Mora, who participated in the 2001 talks at a jungle resort where New York-based Citigroup discussed buying Banamex, said they were in awe of his shrewdness and hoped his career endures.
"There is a big problem, and somebody will have to pay," said Luis Rubio, a former Banamex board member who studies policy at the Mexico City-based Center of Research for Development. He praised Medina-Mora for being a manager who helped swell Banamex profits, which almost quintupled in the past decade, while maintaining "excellent relationships with authorities in both countries."
Liz Fogarty, a spokeswoman for Citigroup, said Medina-Mora and Banamex Chief Executive Officer Javier Arrigunaga wouldn't comment. Neither has been accused of wrongdoing.
Frank Sinatra
Powerful people became Medina-Mora's colleagues, friends and guests. Songs by The Killers and Frank Sinatra played at his daughter's 2008 wedding in San Miguel de Allende, where he chatted with the finance ministers to presidents Vicente Fox and Felipe Calderon, according to a report in the newspaper Reforma. Another former president, Ernesto Zedillo, joined Citigroup's board in 2010.
In Mexico, a small group of businessmen has shared influence over a concentrated banking system, according to Stephen Haber, a Stanford University political science professor who studies the nation's financial industry.
The size of its elite "is infinitesimally smaller" than in the U.S., Haber said. "The place operates on the basis of personal ties."
Yucatan Jungle
The board of Banamex, formally known as Grupo Financiero Banamex, includes former owners Roberto Hernandez and Alfredo Harp Helu, whose cousin Carlos Slim is the world's second-richest person, according to the Bloomberg Billionaires Index; copper magnate German Larrea; television mogul Emilio Azcarraga; and one of Mexico's wealthiest women, Grupo Modelo SAB heiress Maria Asuncion Aramburuzabala.
U.S. banks are politically connected, too. Former Goldman Sachs Group Inc. CEO Henry Paulson was a U.S. Treasury secretary, and Jacob J. Lew, a onetime Citigroup executive, holds the position now.
Their predecessor Robert Rubin was a director at Citigroup when it bought Banamex. Takeover talks were held in the Yucatan's Hacienda San Jose so Rubin wouldn't be recognized, according to "Tearing Down the Walls," Monica Langley's book about former Citigroup CEO Sandy Weill.
Money Machine
Medina-Mora, who was named Banamex CEO in 1996 and became chairman in 2010, has made money for his new firm since he went on that trip. The global consumer-banking division that he has run since 2011 earned $7.1 billion last year, more than half of Citigroup's net income.
He still meets with top Banamex executives and sees clients of the bank, whose profits ballooned to 18.5 billion pesos ($1.4 billion) last year from 4.1 billion pesos in 2004.
That performance has helped Mexico's second-largest lender maintain autonomy. Banamex resisted efforts by New York to improve governance and controls, four people with direct knowledge of the conflict said. Medina-Mora opposed a 2007 companywide rebranding that could have changed Banamex's name, according to a person involved who wasn't authorized to talk.
Mark Costiglio, a spokesman for Citigroup, said Banamex didn't operate independently and "is absolutely subject to the same risk, control, anti-money laundering and technology standards and oversight" as the rest of the firm.
Horse Race
"I hope it doesn't taint him," said Luis Tellez, head of Mexico's stock exchange and a former energy minister under Zedillo. Tellez was also a guest at the wedding of Medina-Mora's daughter. "I have benefited from having a professional relationship with him for such a long time," he said.
Medina-Mora, whose grandfather and uncle also worked at Banamex, got a job there in 1971. He graduated from Mexico City's Universidad Iberoamericana and Stanford's business school.
"When I came into the bank very young, I asked myself, 'Could I become CEO of the bank one day?'" he said in an interview with lifestyle website DCHIC posted to YouTube last year. "Fortunately, life has let me get there and, from there, to other goals that are more global."
He said in the interview that he's a soccer fanatic, a runner, a tennis player and an equestrian who no longer has time for riding. He once bested Win Bischoff, a former Citigroup board member, according to two people who witnessed the horse race at a company gathering.
"We create our future -- we can't predict it, but we can create it," he told DCHIC. "I think that success means that you are happy with what you've achieved, but never satisfied."
'Despicable Crime'
Management of Banamex is now under scrutiny. The bank's loans to Oceanografia were tied to work the servicer said it did for state-owned oil monopoly Petroleos Mexicanos, or Pemex. About $400 million of the $585 million it loaned to Oceanografia was fraudulent, Citigroup said last month, when CEO Michael Corbat, 53, pledged to punish employees who enabled "this despicable crime" through poor supervision.
Brian Leach, head of franchise risk and strategy, is leading the bank's investigation, according to two people with knowledge of the probe.
Yesterday Citigroup failed an annual test of its ability to survive another crisis as the Federal Reserve rejected the bank's plans for dividends and share buybacks. Corbat vowed to make improvements after regulators cited deficiencies in loss projections for "material parts of the firm's global operations."
Mexico's top prosecutor said this week that he obtained a house-arrest order against Oceanografia CEO Amado Yanez. The bank probably won't recover any losses from the oil-servicing firm, according to Fitch Ratings.
Senators Divided
Senator Ernesto Ruffo, a senior member of Mexico's National Action Party, said last week that he and others want Medina-Mora to appear before lawmakers to answer questions about the fraud. Senator Enrique Burgos, a member of President Zedillo and Pena Nieto's Institutional Revolutionary Party, said his colleagues are against it.
"Congress should not be involved," Burgos said.
Meanwhile, the FBI is looking into the fraud, according to a person with knowledge of the probe, and the Federal Deposit Insurance Corp. is examining anti-money-laundering controls at Banamex's U.S. unit. The Fed ordered Citigroup last year to show how it will improve compliance.
'Loyal Lieutenants'
Current and former colleagues described Medina-Mora as an executive-suite traditionalist who favors hierarchy.
"He built a group of very loyal lieutenants who understood what was important for Banamex," said Richard Couch, a former Citigroup managing director who worked with the unit's leadership team on acquisition opportunities. "Culturally there was just a tendency to be deferential to whoever was in charge in the room at the time."
Couch, now chief financial officer of the New York City Housing Authority, said the close ties between Banamex and its clients gave those bankers comfort.
"Because of the tight social relationships and knowledge of who your customer was, I think they felt very much in control," Couch said of executives he worked with before the 2008 financial crisis. "That over time is not always enough."
Family is also a bond. Medina-Mora's brother Oscar ran Banamex's investment-management business. A son, Andres, had a Citigroup internship, and another, Jose Manuel, was majority owner of a company the bank paid $800,000 to for web services. A spokeswoman for the lender declined to comment when the sum was disclosed in 2011.
'Better Mexico'
Medina-Mora's pay over the past half-decade has averaged more than $10 million a year, and his holdings include $48.8 million in bank stock, according to data compiled by Bloomberg.
Haber, the Stanford professor, wouldn't say whether the Oceanografia loss is a fluke or a symptom of broader breakdowns. The recent era in Mexico has seen "a much more stable, better-capitalized and better-run banking system," he said.
Two weeks before Citigroup announced the fraud, Banamex marked its 130th anniversary in Mexico City. Guests included the president, his finance minister, a former antitrust commissioner and Agustin Carstens, governor of the country's central bank. He was also a guest at the wedding of Medina-Mora's daughter.
"Banamex is set apart by its dynamism and strength," Medina-Mora said before President Pena Nieto's speech. "We are the national bank of a better Mexico."
Before it's here, it's on the Bloomberg Terminal.
LEARN MORE