China Vows to Tackle Overcapacity as Industries Suffer
By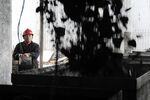 Want to know what parts of China's economy are hurting most? It's worth parsing the numbers on industrial profits released earlier today.
The big picture shows the continued slowdown among industrial companies with revenue of more than 20 million yuan ($3.22 million). In the first two months of the year, profits grew by 9.4 percent, reported China's National Bureau of Statistics. That compares with 12.2 percent for all of last year and 13.5 percent for the first three-quarters of 2013.
Not surprisingly, industries known to be suffering from overcapacity were some of the worst hit. Coal-mining profits, for example, dropped 42.5 percent, while ferrous metal mining fell 3.6 percent and non-ferrous metal smelting (aluminum, for example) fell 10.5 percent. Car manufacturing profits, by contrast, soared 36.8 percent.
"In industries with severe overcapacity, we will strengthen environmental protection, energy consumption, and technology standards; abolish preferential policies; absorb some excess production capacity, and strictly control increases in production capacity," said Premier Li Keqiang at the opening of China's National People's Congress on March 5. "This year, we will reduce outdated production capacity of 27 million metric tons of steel, 42 million metric tons of cement, and 35 million standard containers of plate glass," Li promised.
Ownership of businesses mattered. China's state-owned enterprises' profits were down 0.2 percent, year on year, to 216.9 billion yuan ($35 billion). Private companies, by contrast, increased profits 16.4 percent, to 260.3 billion yuan. Foreign-invested and companies from Hong Kong, Taiwan and Macao, also managed well; their profits grew 14.5 percent, to 181.5 billion yuan.
"The overcapacity and chronically weak profitability in sectors such as steel clearly illustrate the problems resulting from heavy government involvement," write Louis Kuijs and Tiffany Qiu, Hong Kong-based economists at the Royal Bank of Scotland in a March 26 note. "Local governments have traditionally hindered administrative attempts to reduce overcapacity. It remains to be seen whether the central government's current attempts will be more successful."