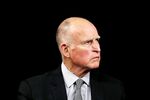 California Democrats should have had a good 2014: The economy's on the mend and the state's budget woes have become far less acute. Yet the first three months of the year have not been kind to the state's Democrats. State Senator Leland Yee was arrested Wednesday on corruption charges, which allege (PDF) that Yee was involved in a conspiracy to traffic weapons and wire fraud. That followed last month's indictment of another state senator, Ron Calderon, for allegedly accepting $100,000 in bribes. And in January, State Senator Rod Wright was found guilty of eight felony charges related to election and voting fraud. Assuming Yee goes on leave (as Calderon and Wright have done) instead of stepping down, Democrats will have just 25 voting members in the Senate—two seats short of the 27 they need for a supermajority.
In California, a supermajority is required to raise taxes or amend the constitution. If the accused senators resign, Governor Jerry Brown could call special elections to fill their seats—and given the composition of their districts, Democrats would surely be elected. But they haven't stepped aside. Calderon, who pleaded not guilty and is fighting his charges, and Wright, who is appealing his conviction, are both on paid leave. Yee hasn't publicly responded to the charges against him.
The San Jose Mercury News reports that measures including "proposals for a new oil-extraction tax and ballot propositions to repeal a ban on affirmative action and restrict politicians' campaign fundraising" are at risk if Democrats don't have 27 seats. The loss of a supermajority would also trip up Brown's proposed amendment to put surplus tax revenue into a rainy day fund. Getting that amendment passed was already going to be tough, as many Democrats want to use that money to restore previous cuts to government services. Without a supermajority, Brown would need Republicans to cooperate, which is unlikely. The rainy day fund was a big part of why the ratings firm Standard & Poor's in January raised the state's fiscal outlook from "stable" to "positive," saying it would provide a more stable future for the state.
Before it's here, it's on the Bloomberg Terminal.
LEARN MORE