Aussie Head-and-Shoulders Bodes Further Rise: Technical Analysis
Kevin Buckland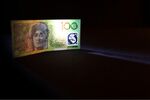 Australia's dollar, the best performing major currency this month, is poised to rally a further 2.3 percent against the dollar after completing a trading pattern known as an inverted head-and-shoulders.
The Aussie has gained 4.1 percent in March, and 7.2 percent since touching a 3 1/2-year low of 86.60 U.S. cents on Jan. 24, which formed the head in the pattern. The rebound is set to continue to 95, an almost five-month high, according to analysts at Bank of America Merrill Lynch and Royal Bank of Scotland Group Plc.
Australia's dollar climbed the most in a week on March 26 after Reserve Bank of Australia Governor Glenn Stevens said the economy may strengthen later this year and as economists forecast policy makers will start to raise interest rates in 2015. The currency's March advance reverses some of the 14 percent drop seen last year amid prospects for a tapering of Federal Reserve stimulus and slowing growth in China, Australia's largest trading partner.
"The Aussie has broken some pretty strong technical indicators," said Greg Gibbs, head of Asia Pacific markets strategy at RBS in Singapore. "What we're potentially seeing is a correction from an oversold position last year. On that basis, you don't actually need a strong fundamental basis for the currency to go higher, but the market can certainly point to a few things, like a rebound in the domestic economy and a more confident RBA."
Aussie Momentum
Reports this month showed that gross domestic product expanded 2.8 percent in the fourth quarter, the fastest pace in a year, and employers added the most full-time jobs since 1991.
The Aussie bought 92.86 U.S. cents as of 11:39 a.m. in Sydney, after touching 92.94, the highest level since Nov. 21.
It closed above its 200-day moving average with the greenback on March 25 for the first time since April in another bullish signal. Momentum also favors further gains, with the moving average convergence-divergence, or MACD, climbing to a five-month high, and widening the distance from its signal line.
Traders pared net bearish Australian dollar positions last week to the lowest since October. The difference in the number of wagers by leveraged investors including hedge funds and other speculators that the Aussie will decline against its U.S. peer compared with bets it will gain -- so-called net shorts -- fell to 15,370 in the week to March 18, the latest figures available from the Washington-based Commodity Futures Trading Commission show.
"Stay bullish AUD," Bank of America Merrill Lynch's New York-based technical strategist MacNeil Curry wrote in a note dated March 26. "It is breaking out," with the 200-day moving average at 91.38 cents likely to repel any pullback.
Bearish Forecasts
The Aussie's fall last year was its worst annual performance since 2008. Analysts expect it to sink to 86 U.S. cents by Dec. 31, according to the median of estimates compiled by Bloomberg. RBS predicts a decline to 83.
"The fundamentals are still pointing down over the course of the year," said RBS's Gibbs. "Commodity prices are weaker. And the recovery in the Australian economy that we've seen recently is likely to run into some headwinds if the currency remains above 90 U.S. cents."
Iron ore, Australia's biggest export earner, has tumbled 17 percent this year on speculation that slowing economic growth in China will curb demand just as global supply increases. Australia cut its price estimate for this year and predicted a further drop in 2015 as mining companies including Rio Tinto Group and BHP Billiton Ltd. increase output.
In technical analysis, investors and analysts study charts of trading patterns to forecast changes in a security, commodity, currency or index.
Before it's here, it's on the Bloomberg Terminal.
LEARN MORE