So Much for 'China-Malaysia Friendship Year'
by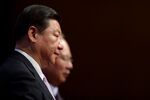 Hard to believe now, with Malaysia's leaders vilified in China and accused of murder after declaring the missing Malaysia Airlines Flight 370 lost in the Indian Ocean, but 2014 was supposed to be a time to celebrate the strong ties between China and Malaysia. Chinese President Xi Jinping and Malaysian Prime Minister Najib Razak met in Kuala Lumpur last October and declared that the countries would mark the 40th anniversary of diplomatic relations by designating 2014 as "China-Malaysia Friendship Year."
At the time, Xi said, "China highly values its relationship with Malaysia," and while that may still be true, Chinese leaders are now more concerned about sticking up for China's citizens. Even after Najib announced on Monday night that Flight 370 had ended in the ocean, the Chinese government is continuing to pressure the Malaysians. For instance, according to the official news agency Xinhua, China is demanding that Malaysia provide the satellite data it used to determine the flight ended in the Indian Ocean. "We demand the Malaysian side to make clear the specific basis on which they come to this judgement," Deputy Foreign Minister Xie Hangsheng said at a meeting with the Malaysian ambassador to China.
Xie isn't the only Chinese official issuing ultimatums. Expressing China's concern about Malaysian officials' decision to declare the missing plane crashed into the ocean, Foreign Ministry spokesman Hong Lei told reporters that the Chinese "have demanded full information and the evidence that supports the conclusion," Xinhua reported today.
The backlash against Malaysia is growing. The Global Times, the state-controlled newspaper, reports a boycott of Malaysia proposed on Sina Weibo, China's version of Twitter, had received support of 24,000 Internet users. Families of Chinese passengers aboard the plane yesterday issued a joint statement denouncing the Malaysian government's "mean and shameless acts" and accusing the airline, as well as the Malaysian government and military, of being "the real murderer."
The reaction in the Chinese media and in cyberspace will no doubt hurt the Malaysian tourist industry, which has been seeking to attract a growing number of big-spending travelers from China. (In another example of unfortunate timing, 2014 not only is supposed to be "China-Malaysia Friendship Year," it is also supposed to be "Visit Malaysia Year.")
But China has something to lose, too. An ongoing squabble with Malaysia would set back China's efforts to expand its influence in Southeast Asia. Like other Asian nations, including Japan, Vietnam, and the Philippines, Malaysia has claims to islands that China says are Chinese territory, but until now the Chinese leadership has tried to avoid straining its Southeast Asian ties and focused instead on disputes with the Philippines and Japan .
China's economic clout could also help smooth ties, since China is Malaysia's largest trading partner. Moreover, among the 10 members of the Association of Southeast Asian Nations, Malaysia is China's largest trading partner. According to Xinhua, two-way trade in the first seven months of 2013 jumped 14.9 percent, to $59.7 billion, following a record high of $94.8 billion in 2012.
Any freeze in Sino-Malaysian ties could open a door to China's major rival, Japan. Prime Minister Shinzo Abe spent much of his first year in office courting leaders in Southeast Asia, traveling to Malaysia and all the other ASEAN countries. Notably, the Japanese government is now taking a much more conciliatory position toward Malaysia's handling of the Flight 370 crisis. "The Malaysian Government has been cooperating with us, giving us quite a good amount of information, very timely and swiftly," Mako Miyagawa, Japan's ambassador-designate to Malaysia, told reporters on Tuesday, according to Malaysia's the Star newspaper. Bernama, the official Malaysian news agency, quoted him further as saying "we really understand how difficult it has been for the Malaysian authorities to handle this case."
Before it's here, it's on the Bloomberg Terminal.
LEARN MORE