NFL to Try Extra Points From 20-Yard Line During 2014 Preseason
Mason Levinson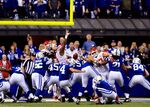 National Football League teams will kick point-after-touchdown attempts from the 20-yard line during the first two weeks of the preseason, owners decided.
They tabled implementation during the regular season and rejected a proposal to move kicks back to the 25-yard line during meetings this week in Orlando, Florida, the league said yesterday on its website.
In addition to backing up the extra-point tries by 18 yards, the NFL said it approved a proposal to extend the goal posts by five feet to 35 feet, and added a rule that allows the recovery of any loose balls to become reviewable on video.
The NFL's competition committee had lengthy discussions about what to do with extra points, deciding to move slowly on the issue because it was so new, Jeff Fisher, a committee member who is the St. Louis Rams coach, said at a news conference.
"The committee was concerned about a rule being implemented without having the opportunity to go through the unintended consequences," Fisher said. "We all feel like we need to do something, we're just not quite sure what we are going to do with it yet."
Commissioner Roger Goodell said owners continued discussions about adding teams to the playoffs and expected to cover the topic in a meeting with the players' union on April 8.
Failed proposals included moving kickoffs to the 40-yard line from the 35, allowing more than one player to return from the injured reserve list during the season, and an expansion of the plays that can be reviewed. The New England Patriots had proposed allowing all plays to be reviewed and the Washington Redskins wanted personal fouls to be reviewable, according to NFL.com.
Patriots' Proposal
New England had proposed moving the extra-point kicks to the 25-yard line, according to NFL.com. The league has considered several options to make extra points, which had a 99.6 percent success rate last season, more exciting. Goodell in January suggested awarding seven points for a touchdown and giving teams the option to run or pass for an eighth point, with a failed attempt lowering the touchdown value to six.
The loose-ball rule change came after a disputed call during the National Football Conference championship game in January when San Francisco 49ers linebacker NaVorro Bowman recovered a ball near the goal line before it was ruled to have been recovered by the Seattle Seahawks' offense. The play was unreviewable at the time.
The competition committee also had "very lengthy discussions" about sportsmanship, Fisher said, citing a rise in instances of taunting last season to 34 from nine a season earlier.
"We agreed that we are going to get it under control as soon as we possibly can," Fisher said. "We've got to change our conduct on the field. We've got to bring the element of respect in its highest level back to our game."
Before it's here, it's on the Bloomberg Terminal.
LEARN MORE