N.Y. State's Schools Most Segregated in U.S., Report Says
Oliver Staley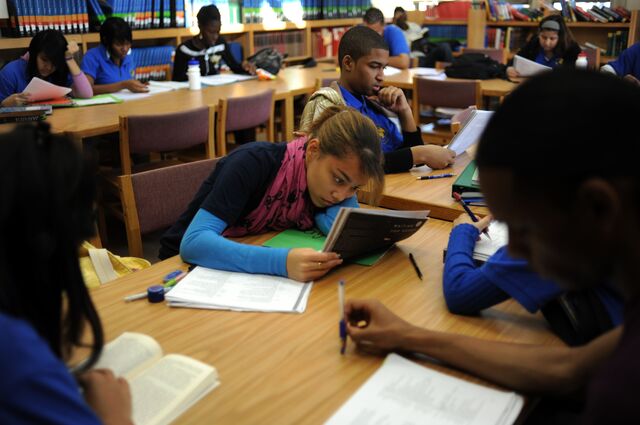 New York State's public schools are the most segregated in the nation, with the most black and Latino students in schools where less than a 10th are white, according to the University of California at Los Angeles.
Almost 30 percent of the state's schools had fewer than 10 percent white students, and in 11 percent of the schools, fewer than 1 in 100 students are white, according to the report from UCLA's Civil Rights Project, released today. The study used federal data through 2011.
The uneven distribution of students in New York, which has increased over the past 20 years, is being driven in part by New York City, which has more than a third of the state's students. More than half of the city's 32 community school districts are "intensely segregated," and a majority of charter schools are so-called apartheid schools, with fewer than 1 percent white students, according to the study. Schools with mostly minority students have less-experienced teachers and inadequate facilities and resources, said Gary Orfield, one of the study's authors.
"They are systematically unequal in opportunities and outcomes," Orfield, a professor of education, law and political science at UCLA, said in a telephone interview. "The dropout factories of the U.S. are overwhelmingly poor, nonwhite schools."
California, Nevada
New York City's segregation is fed by a history of racial discrimination in housing; school-choice programs that favor educated, middle-class families; and a lack of policies that encourage diversity, Orfield said.
The city's effort to address the disparity is rooted in Mayor Bill de Blasio's push for universal all-day pre-kindergarten and afternoon programs for middle-school students, said Marti Adams, a mayoral spokeswoman.
"No education system works unless every child has opportunity; that's why the mayor and education chancellor are focused on big solutions that reach every school and every child," Adams said in an e-mail.
New York was followed by Illinois, Michigan, Maryland and New Jersey as states with the highest number of black students in schools where less than 10 percent are white, according to a 2012 study by the same authors. New Mexico, Texas, Delaware, California and Nevada are the states where white students have the most exposure to black and Latino students.
Not Enough
It's not enough to simply offer parents a choice of schools without providing them with tools to access them, Orfield said.
"If choice plans are going to be equitable, you have to have programs to make that happen," he said. For example, "if you don't have transportation within your choice plan, then you're just giving choice to people who can afford transportation."
The number of white students in public schools across New York state declined 11 percent in 2010 from 1989 and made up only 15 percent of New York City's schools.
Segregation has also increased in the city's suburbs on Long Island and Westchester and Rockland counties, and in the upstate New York cities of Buffalo, Syracuse and Albany, the study said.
Jonathan Burman, a spokesman for the New York state Education Department, didn't immediately respond to a request for comment on the report.
Before it's here, it's on the Bloomberg Terminal.
LEARN MORE