pursuits
Ritz Crackers Now Come in Bacon Flavor
By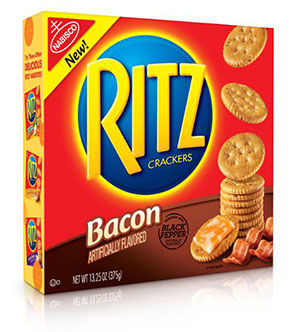 Those buttery, old-fashioned Ritz crackers have spun off a few varieties since they were invented 80 years ago, from garlic butter to roasted vegetable, honey wheat to unforgettable cheese-filled Ritz Bits. Now, Mondelēz International is adding a new flavor to its Ritz lineup: bacon.
Predictable, right? The ubiquitous cured-pork flavor—and scent—can be found in everything from soap to candles. Some serious foodies have moved on to sriracha flavor, but, as Mondelēz sees it, bacon still has some pull.
The company argues there's an obvious logic behind a bacon-flavored cracker. "We developed Ritz Bacon as a way to make it more convenient to get that delicious bacon taste anytime, anywhere," from "the bus to the beach to the boardroom," Katrina Cohen, senior brand manager for Ritz, said in an e-mail. Because, let's face it—whipping out a sandwich bag full of fatty meat in the boardroom could be awkward. Note: There's no actual bacon in the new cracker, just the essence of bacon via a dry seasoning blend.
Will today's overload of bacon-themed products reduce people's passion for the salty, smoky flavor? "We don't think bacon is a fad at all," said Cohen. She backs up her assertion with data showing that bacon sales climbed 9.5 percent in 2013, to an all-time high of almost $4 billion. Modern Farmer recently published a story that thoroughly captures Americans' relationship to the meat: "The Bacon Fad Is Over, but We're Eating More of It Than Ever."
Maybe bacon has finally crossed that line, from hyped indulgence to classic savory flavor—like sour cream and onion—that's here to stay.
Before it's here, it's on the Bloomberg Terminal.
LEARN MORE