How New York's Biggest Law Firms Stay on Top
By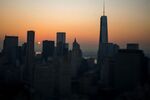 New York's top law firms are in a class by themselves.
From Cravath to Skadden Arps and Davis Polk to Sullivan & Cromwell, these firms and their lawyers count the biggest national and multinational companies as clients, representing them on the highest-profile deals and cases—and they command the highest fees, which in turn generate the heftiest profits. Every year, when the Am Law 100 financial ranking of the country's highest-grossing law firms is released in May, about a dozen New York practices dominate the charts, especially the profit ranking. Of the top 20 firms on last year's Profits Per Partner list, 13 were traditional New York Wall Street firms.
Preliminary numbers reported last week by the American Lawyer magazine and Citi Private Bank's law firm group show the spread between New York and the rest of the pack is increasing. Gross revenue at roughly a dozen top New York practices increased 4.9 percent on average last year, according to the American Lawyer. That's nearly double the 2.5 percent national average reported by Citi Private Bank last month, based on a survey of 180 law firms.
"The mix of work continues to favor the high-profit New York firms," says Dan DiPietro, chairman of Citi's law firm group. That mix is mostly a combination of multibillion-dollar deals, which saw a big uptick in the second half of 2013, and litigation and regulatory matters that the financial institutions and big banks continue to confront in the wake of the financial and mortgage crisis.
Below are four factors underlying the firms' performance:
1. A return to a trend from the years before the recession.
New York practices had moved well ahead of law firms nationally before 2008. "From 2002 to 2007, and we can argue about what the right year is to start, but those elite firms were creating more distance between themselves and the rest of the pack," DiPietro says. And while these firms weren't immune to the effects of the recession—some were quite hard hit—they continued to create distance. Just "not in a straight line," he says.
2. Wall Street clients come with benefits.
While all firms suffered and struggled with the effects of the recession, the top New York firms have benefited from relationships with the banks and financial institutions that have had to contend with the legal downpour stemming from investigations into lending practices, alleged manipulation of Libor and other benchmark interest rates, and more. DiPietro says that work, beneficial as it has been, seems to have crested. But it might be too soon to make that call, since every week brings more actions and settlements. Just look at such recent examples as the FDIC's lawsuit against 16 banks over Libor rates or Credit Suisse's $885 million settlement with the Federal Housing Finance Authority.
3. Pressure from clients didn't stop billing rates from climbing higher.
One reaction to the recession has been clients demanding—and often extracting—significant discounts on the rates charged by their law firms. Still, many firms kept increasing their rates year after year. "The industry is able to eke out lower rate increases, but they are eking out increases," DiPietro says. Some of the rate increases noted since 2008 "can be attributed to the fact that there's been a shift to higher-end work." Many commoditized jobs have been outsourced to lower-cost legal service providers.
4. Profit, profit, and more profit.
New York's top-tier firms work very hard to preserve profits by doing what many firms across the country have done—cutting costs (and cutting loose some fellow partners). As the economic recovery picked up over the past year, more hours billed at higher rates with fewer discounts also boosted profitability. Last year, profit per partner increased 8 percent, on average, at the roughly dozen New York firms. Partner profits at three of those firms jumped at least 18 percent, according to the American Lawyer: Davis Polk (22.5 percent), Shearman & Sterling (18.4 percent), and Simpson Thacher (18.8 percent).
Before it's here, it's on the Bloomberg Terminal.
LEARN MORE