pursuits
How IHeartRadio Harmonizes Big Media and Big Data
By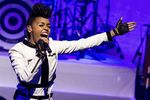 The March 26 announcement of finalists for the first-ever IHeartRadio Music Awards featured typical names: Rihanna, Justin Timberlake, Drake, Maroon 5, Taylor Swift, and so on. It doesn't matter who will win on May 1st. All that matters is the rapid growth of this very unique brand.
Despite its friendly, fuzzy, techy, Apple-sounding name (that little "i" in front—and the "Heart," of course), IHeartRadio belongs to the biggest and baddest conglomerate in the radio business: Clear Channel Communications. Launched in 2008, the IHeartRadio product mixes big media access (content from 800 local Clear Channel radio stations) with the big data analysis featured in the music recommendation systems of smaller companies such as Pandora and Spotify. You can use IHeartRadio both to access your own user-created customized digital stations and to stream good ol' terrestrial radio. This sets IHeartRadio apart from the pack.
The big budgets of Clear Channel allow you to download an IHeartRadio app for any device you want. Unlike so many tech startups that usually feature apps only for Apple and Android devices, IHeartRadio apps are available on Windows, Kindle, and yes: Blackberry.
On the streaming side, the product is already No. 2, behind only Pandora (and ahead of iTunes Radio, Spotify, and Google Play). It has been growing fast, from 10 million registered users in May 2012 to 40 million just 18 months later. The analytical intelligence (knowing to play songs similar to ones you already like) behind the customized streaming product comes from the Echo Nest, which was recently bought by Spotify, a direct competitor to IHeartRadio. For now, Spotify says it will allow the Echo Nest to serve other streaming audio sites. For now.
Having big-wallet backers allows some interesting experiments, such as playing the same song repeatedly in an endless loop for 13 days. It has facilitated cross-promotional branding on Clear Channel's radio stations, a music festival, and now the award show.
That's why it doesn't matter who wins the awards. The true winner is Clear Channel, which has found a way to marry the old-school strengths of ubiquity and publicity with digital, customizable content. Clear Channel manages to stay modern as it expands its streaming site into a full-fledged brand.
(
Corrects the spelling of Maroon 5 in the first paragraph.
)
Before it's here, it's on the Bloomberg Terminal.
LEARN MORE