How Healthy Is Your County? (California's Healthiest Is Marin)
By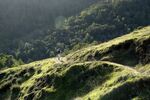 Maybe being laid-back is good for your health. California's famously easygoing Marin County, just over the Golden Gate Bridge from San Francisco, is the healthiest county in all of California, according to a ranking released today. Texas's healthiest is Presidio, a sprawling county on the Mexico border that's home to artsy Marfa. In Arizona, it's Santa Cruz County, which also hugs Mexico. Florida's healthiest is St. Johns County, right outside Jacksonville. And in Washington, it's San Juan County, the picturesque collection of islands hard by Canada.
All this is according to countyhealthrankings.org, a website sponsored by the Robert Wood Johnson Foundation and the University of Wisconsin Population Health Institute. The purpose is to get people thinking about what it takes to improve health in their own communities. So you can look up not just how healthy your county is, but how it ranks on the "inputs" to health, such as the quality of clinical care, healthy behaviors, social and economic factors, and the physical environment.
No surprise, health is highly correlated with income and ethnicity. (The New York Times reported March 25 on a new study demonstrating that smoking has proven hard to shake among the poor.)
But the sponsors of the rankings website say there are still big opportunities for counties that have low incomes and less healthy minority populations to improve their population's health status. Previous years' rankings have stimulated communities to think hard about programs for obesity reduction, vaccinations, prenatal care, walking to work, and the like, Michelle Larkin, assistant vice president of program portfolios at the Robert Wood Johnson Foundation, said in an interview before the rankings' release.
"It has really exceeded our expectations … in terms of bringing people from different sectors together," she said. "The mayor's office, parent groups, business are actually in the same room thinking about what's impacting their community and taking a broad view of health."
Before it's here, it's on the Bloomberg Terminal.
LEARN MORE