pursuits
Fewer People Are Seeing Movies, but Box Office Revenue Is Up
By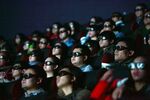 Despite a fast-shrinking window between when films leave theaters and when they pop up on streaming devices, the business of selling movie tickets is still no horror show.
U.S. theaters collectively increased ticket revenue a bit last year, according to a new report from the Motion Picture Association of America. But that's not because more people are going to the movies—it's because ticket prices are higher. Here's a look at that dynamic and two other interesting takeaways from the 31 pages of data that Hollywood premiered yesterday.
1. Growth from price hikes, not people.
Here's a look at how both box office revenue and ticket-sale tallies in North America have changed in the past decade.

Relatively static and unexciting. But those trend lines don't do justice to how incremental changes in each metric play out over time. Here's the same graph, with the data pegged to 2004 levels.


In the past decade, cinemas raised the price of the average movie ticket by almost one-third, to $8.13, and that has made all the difference. If inflation alone was at play, today's average price would be $7.72.
The fact that movie theaters can hike prices so much without losing more traffic is encouraging. But it means they are leaning more heavily on superfans, rather than expanding the base. Half of all movie tickets now go to "frequent moviegoers," according to the association—that is, people who go to a movie at least once a month.
Meanwhile, about one third of North Americans never go to movies at all (no doubt preferring to stay at home to read Walt Whitman and/or watch Sharknado).
2. Avatar is still king
Surprisingly, returns on 3D offerings have been fairly static, despite slick 2013 treatments such as Gravity and Iron Man 3. The industry still can't top the haul that its goofy glasses realized in 2010, when Avatar and Toy Story 3 helped 3D capture roughly one in five movie dollars.


3. Asian consumers are the producers now
"How will it do in China?" will now be part of every boardroom decision (if it wasn't already) on whether to greenlight a film. Last year, Asia passed both North America and Europe, the Middle East, and Africa in total box-office revenue. What's more, Asian theaters now have almost 2,000 more digital screens than those in North America.


Before it's here, it's on the Bloomberg Terminal.
LEARN MORE