China's Growing Hunger for Yogurt Hits Global Supplies
By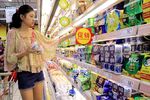 Americans have been steadily drinking less milk, so dairy producers should be thankful that demand hasn't been skimmed on the other side of the Pacific.
The world dairy market has seen "exceptional demand from China" over the last few years, said Uthra Raghunathan, an agricultural economist with the USDA's Agricultural Marketing Service, at an event (PDF) earlier this year. Despite safety issues in China's dairy market, which lead to a massive recall last year, dairy demand is growing.
 
For what products exactly? Regular milk is the largest product, but flavored milk drinks and yogurt are growing even faster, according to data from Euromonitor International. Yogurt sales—including drinking yogurts, which are more common in China than thick yogurts that require a spoon—surpassed those of powdered milk back in 2005. Yogurt now accounts for almost 18 percent of China's total drinking of fluid milk products, according to a report (PDF) by the U.S. Department of Agriculture.

These promising numbers led Danone, the world's largest yogurt maker, to agree to more than double its stake in China Mengniu Dairy to 9.9 percent last month.
This year, China's fluid milk consumption is expected to increase 7 percent as a result of population growth, urbanization, and rising income, according to the USDA report. The country will need more imports to support this demand, which is contributing to higher dairy prices back in the U.S.
Don't expect deep discounts on your favorite yogurts anytime soon.
Before it's here, it's on the Bloomberg Terminal.
LEARN MORE