China's Surging Film Box Office Leads Global Rise in Movie Sales
Christina Larson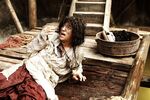 China's movie box office sales rose 27 percent, to $3.6 billion, in 2013. That steep rise in the world's second-largest film market anchored a 4 percent global rise in box office sales, to $35.9 billion, according to data released by the Motion Picture Association of America.
Of the top 10 grossing movies last year in China, seven were domestic films. The most successful movie in 2013, Journey to the West: Conquering the Demons, was an epic drama set in a mythologized version of ancient China, featuring a devout Buddhist fighting to protect his home town from evil spirits. In a similar vein, No. 5-rated Young Detective Dee: Rise of the Sea Dragon featured fantasy martial arts.
Domestic movies about the romantic travails of young urbanites also fared well last year, including No. 8, Finding Mr. Right, and ninth-ranked Tiny Times, the latter about fashion-obsessed university women in Shanghai.
The top-grossing foreign film in China last year was Iron Man 3, which ranked second in China overall. Pacific Rim and Gravity also made the top 10.
Below is the list of top-grossing films of 2013 in China, as compiled by Xinhua newswire:
1. Journey to the West: Conquering the Demons (Chinese domestic production): 1.25 billion yuan ($201 million)
2. Iron Man 3 (foreign production): 768 million yuan
3. To Our Lost Youth (domestic): 71 million yuan
4. Pacific Rim (foreign): 696 million yuan
5. Young Detective Dee: Rise of the Sea Dragon (domestic): 602 million yuan
6. Personal Tailor (domestic): 589 million yuan
7. American Dreams in China (domestic): 539 million yuan
8. Finding Mr. Right (domestic): 520 million yuan
9. Tiny Times (domestic) 488 million yuan
10. Gravity (foreign): 436 million yuan
Before it's here, it's on the Bloomberg Terminal.
LEARN MORE