U.K. to Sell $7 Billion Lloyds Bank Stake to Money Managers
Gavin Finch and Ambereen Choudhury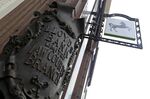 The U.K. government is selling a 4.23 billion-pound ($7 billion) stake in Lloyds Banking Group Plc, its second disposal since rescuing the lender in the financial crisis.
The government is selling a 7.5 percent stake to money managers to cut its holding to about 25 percent, U.K. Financial Investments Ltd., which manages the government's stake in the lender, said in a statement. The 5.35 billion shares will be sold at a price set by an accelerated bookbuilding, UKFI said.
Orders below 75.5p a share are likely to miss out, according to two people familiar with the deal. Demand was expressed yesterday for all shares offered, terms show.
The sale may be followed in coming months by the first offering of Lloyds shares to individual investors. Lloyds Chief Executive Officer Antonio Horta-Osorio said last month he will ask regulators in the second half for permission to restart dividend payments, the lender's first since 2008.
The sale "should be good for the stock," said Chirantan Barua, an analyst at Sanford C. Bernstein Ltd. in London who has an outperform rating on Lloyds. "The fact that they have retained the 25 percent clearly shows that they want to do a retail offering this year as well."
Bank of America Corp., JPMorgan Chase & Co., Morgan Stanley and UBS AG are managing the offering. Lazard is acting as capital markets adviser.
The U.K. last sold a 3.2 billion-pound holding, about 6 percent of Britain's biggest mortgage lender, to money managers in September. The shares were then sold for 75 pence each.
General Election
Lloyds has since climbed 2.3 percent, making the stock the best-performing of Britain's five biggest banks. The lender advanced 0.8 percent to 79.11 pence in London yesterday, above the 61 pence at which the government says it will break even after providing a 20 billion-pound rescue in 2008.
The Treasury said in December it plans to give taxpayers the opportunity to purchase Lloyds shares "when the time is right" after a sale to money managers.
Chancellor of the Exchequer George Osborne, constrained by the biggest austerity program since World War II, could use the proceeds from the offerings to fund tax cuts or more spending before the next general election, due in 2015.
Osborne said last year that Royal Bank of Scotland Group Plc, which received a 45.5 billion-pound bailout during the financial crisis, is still burdened by too many poor assets for the government to start reducing its 80 percent stake.
U.K. Financial Investments told Osborne "it would be appropriate to sell another part of the government's shareholding," the Treasury said in a statement yesterday.
Before it's here, it's on the Bloomberg Terminal.
LEARN MORE