The Koch Brothers Are Spending Circles Around Democrats
By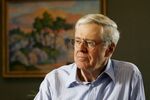 Nate Silver's dour forecast about the Democrats' diminishing likelihood of holding on to the Senate isn't the only cause of liberal angst. The dreaded Koch brothers—that'd be David and Charles Koch, the fifth- and sixth-richest men on the planet, according to the Bloomberg Billionaires Index, who are together worth precisely $100 billion—have been plowing money into the conservative group Americans for Prosperity, which has unleashed a fusillade of negative ads against vulnerable Democratic senators. In fact, AFP has dramatically outspent the Senate Majority PAC and the House Majority PAC, the main outside Democratic groups.
This chart from Kantar Media CMAG, created for the Cook Political Report, illustrates just how badly Democrats are being outspent:

The chart covers spending from the beginning of last year through March 22, and helps to explain why Silver's forecast now tilts toward Republicans. It isn't just the sluggish economic recovery, the drag of Obamacare, or the president's upside-down favorability rating, although all of these things are weighing on vulnerable red-state Democrats such as Senator Kay Hagan of North Carolina and Senator Mary Landrieu of Louisiana. They're also being dragged down by the tens of millions of dollars' worth of ads that have been telling their constituents what terrible senators they are—money that's not being matched by their own party's donors. According to Bloomberg News, AFP has already aired more than 17,000 broadcast television ads.
It's worth pointing out that the Democrats' plight may be even worse than the Kantar Media chart indicates. That's because AFP isn't the only conservative group taking aim at vulnerable Democrats. As Bloomberg's Julie Bykowicz notes, other "freelance billionaires" are taking a page from the Koch brothers and funding their own groups, such as Ending Spending, which was started by TD Ameritrade founder Joe Ricketts and is now run by his son Todd. The younger Ricketts tells Bykowicz that the Koch brothers are "great heroes who stood up and wanted to make a difference." Collectively, it's hard to imagine that all of these well-funded conservative groups won't make a difference.
Before it's here, it's on the Bloomberg Terminal.
LEARN MORE