How the Average McDonald's Makes Twice as Much as Burger King
by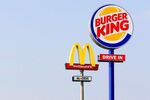 McDonald's may recently have struggled to lure customers, but it still does far more business at each location than rival burger chains. The average McDonald's restaurant in the U.S. drew $2.6 million in revenue last year. Average sales for No. 2 chain Burger King: $1.2 million, according to data from its largest franchisee, Carrols Restaurant Group.
What accounts for this more-than-a-million gap? "Everything from marketing and site selection to product initiatives and franchisee selection have been historical factors," said Nick Setyan, vice president in charge of equity research at Wedbush Securities, in an e-mail. Here are four factors that drive higher sales volumes at McDonald's:
1. McDonald's gets more customers during off-peak hours. Look no further than the strength of its breakfast business relative that of Burger King, says Darren Tristano, executive vice president at restaurant consultancy Technomic. Egg McMuffin is part of the fast-food vocabulary in a way Burger King can't match. And beverage and snack offerings such as McCafe and wraps have helped increase McDonald's sales between meals. The dramatic impact from off-peak business explains why chains like Taco Bell are entering the battle for morning customers, while others such as Starbucks are seeking more afternoon and evening business.
2. The power of the Happy Meal. McDonald's has the largest share of kids meal sales in the fast-food industry and gets about 10 percent of total sales from Happy Meals, the most commonly advertised (PDF) child-oriented fast-food item on television. Burger King, meanwhile, is still trying to win back "parties with kids and seniors and women," said Josh Kobza, Burger King's chief financial officer, at a conference last year. One way to do that: "We got rid of the creepy king character that tended to scare away women and children."
3. McDonald's has an edge on efficiency. Despite recent operational challenges at McDonald's, which have slowed down service, it is still more efficient. Its drive-through service can handle more cars at peak times, Tristano says, and McDonald's restaurants are adding a third service window to get customers through even faster. The average service time at McDonald's drive-throughs is 189.49 seconds, compared to 198.48 at Burger King, according to QSR Magazine. Drive-through service is important: Burger King franchisee Carrols gets 65 percent of its sales from the drive-through.
4. More marketing dollars. McDonald's spends a lot more on marketing than competitors, as Tristano points out. Its advertising costs in 2012 were $787.5 million vs. Burger King's $48.3 million, and the gap widened last year when Burger King itself spent only a few million on advertising in order to focus on equipment updates. In its 10-K submission, Burger King said it expects to spend less on advertising until 2016; the company declined to comment for this story.
Before it's here, it's on the Bloomberg Terminal.
LEARN MORE