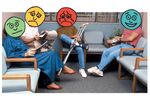 When a man is rolled into an emergency room with acute abdominal pain, a doctor he's never met must quickly try to figure out the cause of the problem: Kidney stone? Appendicitis? Triple cheeseburger? If the physician had a way of knowing that the man complains of aches and pains all the time, that a recent CT scan revealed no problems, and that a few days earlier a doctor at another ER had sent him home with an antacid and instructions to follow-up with his family doctor, the examination would take a lot less time and likely cost a lot less money. "All of a sudden, it changes the whole nature of the conversation with the patient," says Dan Lessler, the chief medical officer for Washington state's Medicaid program.
An experiment under way in the state is starting to show how giving doctors that kind of information can reduce the number of people who repeatedly show up in emergency rooms with minor ailments such as upset stomachs and headaches. Many are low-income patients covered by state Medicaid programs—which means taxpayers pick up the bill. Almost all ERs "have a few patients who have the potential to abuse the system," says Mark Reiter, president of the American Academy of Emergency Medicine. "I had a patient come in over 300 times one year." In Washington, patients who went to the ER more than four times a year made up a fifth of all ER visits paid for by Medicaid. So in June 2012 the state began requiring all ERs to put details about patients they treat into a statewide database, allowing physicians to track patients' visits even if they frequent more than one hospital.
Doctors can now direct many of these patients to clinics or other less expensive care centers. Data released on March 20 show ER visits by Medicaid patients fell 10 percent in the 2013 fiscal year, and the rate of ER visits that resulted in a non-acute diagnosis decreased more than 14 percent. Lessler credits the database for a "substantial amount" of the state's $33.7 million reduction in 2013 Medicaid costs. Some hospitals had tried to create a regional database in the past, but many "don't want to play well with their competitors," says Nathan Schlicher, an ER physician who's on the board of Washington's medical association. He says it took "a shared crisis" to get them to cooperate, namely that the state announced it would no longer reimburse hospitals for unlimited ER visits.
At first, Washington said it wouldn't cover more than three non-emergency ER visits per Medicaid recipient each year. Doctors and hospitals successfully sued, saying the policy was arbitrary and would stick hospitals with the costs. Instead, the state's Medicaid office came up with a list of 500 ailments—including acute bronchitis, urinary tract infections, and headaches—that it would no longer reimburse as emergency care, arguing those complaints could be treated in doctors' offices or clinics.

That provoked further outcry from doctors and hospitals. A former nurse-turned-Democratic state legislator, Eileen Cody, urged the adoption of the database as a compromise. Known as the Emergency Department Information Exchange, it meets federal health privacy laws by allowing only approved medical staff to get data on patients under their care. Register at an ER anywhere in Washington, and "by the time they get your vital signs, we've already got a fax back," says Schlicher. (Yes, many hospitals still rely on the antiquated machines.) The report, which also can be delivered by e-mail, lists all recent ER admissions, diagnoses, and treatments. "If a patient was seen three days ago at Harborview Medical Center and walked into Valley Medical Center 25 miles south," says Lessler, "the treating physician might know they were seen there and might have some info about what went on."
Once a patient leaves an ER, the database helps doctors track their care. One hospital dispatches paramedics to check on high-risk patients within two days of their visit. Others hire care coordinators to ensure patients make appointments with a family doctor or specialist. Rural hospitals found that many of their ER patients needed help with pain, so they set up the region's first pain management clinic. The data has helped reduce the prescription of narcotics in the state's ERs by 24 percent in the first year. And 424 primary care physicians have signed up to receive automatic notifications when one of their patients goes to the ER. Washington is working to sign up more family doctors as well as community and mental health clinics.
The American College of Emergency Physicians called the Washington effort a "model for the nation." Oregon is setting up a similar program, and doctors involved in Washington's program say they've answered queries from colleagues in California, Texas, Ohio, New York, and Florida. As the Affordable Care Act expands Medicaid to a greater number of patients, the need for states to keep ER costs in check will become more pressing. Washington is showing how far a little data can go.
Before it's here, it's on the Bloomberg Terminal.
LEARN MORE