Hard Rock Cafe Wants You to Forget That Old Time Rock and Roll
By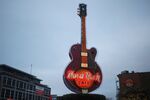 Hard Rock Cafe isn't all Bruce Springsteen and Bon Jovi. Walk into one of the company's 140 restaurant locations today, and you'll hear recent hits from Katy Perry and Imagine Dragons along with the guitar-hero relics in the showcases and Kiss merchandise in the retail shop.
Of course, a large segment of lost Hard Rock customers haven't visited since, say, a long-ago family vacation. Executives at the company, which has been owned by the Seminole Tribe of Florida for the past seven years and is headquartered in Orlando, are not unaware of this situation. They even have a name for the problem—"old tape"—and their mission is erasing it.
"There's a particular segment that we particularly want to reach out to that hasn't really, for whatever reason, thought about us or experienced us in the last 10 or 15 years," says Fred Thimm, chief operating officer of cafe operations. Bringing them back, he adds, "that's almost the evangelical mission for a lot of us."
Hard Rock Cafe International began in London in 1971, and 11 years passed before first U.S. location arrived. The footprint remains heavily international, with most of the franchise and company-owned restaurants located abroad. Since opening the first Hard Rock hotel and casino in Las Vegas in 1995, the company has expanded to 19 hotels and nine casinos. Six more hotels are now planned along with a new casino in Hungary. The unifying concept behind the hamburgers and memorbilia, says Chief Marketing Officer John Galloway, is offering "experiences that rock."

The perception that Hard Rock's business has stagnated over the decades is simply wrong, Thimm says. The restaurants, casinos, and hotels together generated about $3.5 billion in sales last year, along with record profit for a Hard Rock that is feels surprisingly little nostalgia for the good old days. As new locations opened from 2007 to 2013, the cafe business expanded at a 4 percent compound annual growth rate, hotels at 25 percent, and casinos at 9 percent. Today the casinos in particular are a significant profit generator for Hard Rock overall.
Most of the growth has come overseas. On Facebook, for instance, Hard Rock has more fans in such countries as Italy and India than in the U.S., and franchising now focuses on overseas markets.
The other thing to understand about Hard Rock's business is that despite its strong identity as a theme restaurant, over the past decade it has emphasized tourism and hospitality more broadly. "Part of our model is built on satisfying the needs of tourists," says Galloway. Even the cafes work with travel groups, including school tours, and get about 72 percent of their business from out-of-town visitors.

The problem, Hard Rock executives say, is that in the 1990s, the brand suffered as other theme restaurants proliferated. Over the years the cafes also became cluttered with a growing inventory of random memorabilia and outdated décor (remember those checkered tablecloths?). After sales dipped in the early 2000s due to a slowdown in tourism, former owner Rank sold Hard Rock to the Seminole Tribe in 2007, and the new owners invested in the brand despite the slump in casual dining. Planet Hollywood, by contrast, is down to eight restaurant locations today from 95 in 1998.
As part of efforts to keep the 42-year-old Hard Rock brand fresh, which have in the past included memorabilia makeovers to reflect each location's local music heritage better, Hard Rock Cafe is set to launch a new menu next month. Hard Rock will boost marketing efforts through events and national advertising in airline magazines, Voice Media publications, and radio and outdoor media. The new menu, says Galloway, is one way to get old customers back in and erase the "old tape" in their minds.
But food is only one part of Hard Rock's brand update. "If I had to think of the expansion of the brand right now, the hotel and casino is a big focus of our group," says Galloway.
The strategy is to reach consumers of all ages, not aging boomers pining for rock music's heyday. To appeal to young adults who aren't frequenting the restaurants, Hard Rock sponsors music festivals and events, including electronic dance music and indie rock, some of which is staged in its own live music arenas. "There's no better brand representation than a 22-year-old musician repping this brand," Galloway says.