Hall of Famer Jim Kelly to Have Surgery After Cancer Returns
Mason Levinson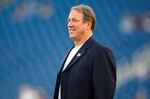 Jim Kelly might have surgery in two days on a recurrence of cancer in his jaw, nine months after the Hall of Fame quarterback announced he was free of the disease.
"Surgery tentatively scheduled for Thursday," Kelly's wife, Jill, said in an Instagram post yesterday. "And every day we prepare, get stronger, trust God."
She wrote in a blog post on March 21 that the cancer had returned.
"The hospital rooms are where we 'huddle-up' as a family to call the next play and plan the next move now that the cancer's back, aggressive and starting to spread," she wrote while sharing a story of her family's faith and her husband's interaction with another cancer sufferer.
Kelly, a 54-year-old who spent his entire National Football League career with the Buffalo Bills, will have the operation in New York, WIVB-TV in Buffalo reported, citing Dennis DiPaolo, a close friend of the Kelly family.
Kelly, who according to the Buffalo News was not a smoker or chewing tobacco user, said in June that he was diagnosed with squamous-cell carcinoma in his upper jaw bone and that his prognosis for recovery was very good. He had surgery June 7 and said on June 24 that he wouldn't need radiation or chemotherapy after having the left side of his mouth and several front teeth removed.
A 2002 inductee into the Pro Football Hall of Fame in Canton, Ohio, Kelly led the Bills to four straight Super Bowl appearances from 1991 to 1994. He played in Buffalo from 1986 to 1996, throwing for 35,467 yards and 237 touchdowns.
Before it's here, it's on the Bloomberg Terminal.
LEARN MORE