GM Recall Accused of Missing Cobalts With Faulty Ignition
Linda Sandler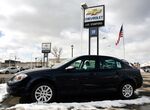 General Motors Co., facing lawsuits in the U.S. and Canada over faulty ignition switches, may not have recalled all Chevrolet Cobalts with the defects, according to two complaints filed against the carmaker.
While the flawed switches prompted GM to recall 1.6 million cars, including Cobalts for the model years 2005-2007, defects that have been linked to deaths weren't all fixed, according to a complaint filed yesterday by 13 customers in federal court in San Francisco.
A second lawsuit in Alabama state court, filed over a fatal crash after an engine shutoff, cites technical service bulletins that GM allegedly sent to dealers alerting them that keys may "stick" or "bind" in the ignition cylinders of non-recalled Cobalts and other cars.
The San Francisco complaint includes a claim that faulty key systems persisted in Cobalts through 2010, while the Alabama customers alleged Detroit-based GM knew of problems with Cobalts built before April 2009.
"GM may have to expand the recall," said Sean Kane, president of Rehoboth, Massachusetts-based Safety Research & Strategies Inc., which researches product hazards. The automaker failed to address all the ignition problems, including a design flaw that could lead to accidents, he said. "Note that the driver's knee can turn the key off too."
Without Warning
Galdina Maciel of Sonoma County, California, paid $13,718 for a 2010 Cobalt two years ago. When driving it earlier this year it suddenly locked up without warning, according to the San Francisco lawsuit. Other plaintiffs claimed they were on the freeway when their cars suddenly shut down.
GM should have disclosed the key-system defects to the purchasers, according to the complaint, which asked the judge to stop the auto company's allegedly unfair business practices and repair the defective cars. "Plaintiff Maciel would not have purchased the vehicle had she known of the defects."
The Alabama suit, also filed yesterday, included the service bulletins about keys sticking in the ignition and being difficult to remove. Safety specialist Kane said that was much less hazardous than a design flaw that could cause airbags and engine power to fail.
GM fell as much as 2.7 percent $34.19 today in New York trading before closing at $34.51, a decline of 63 cents.
'Specific' Switch
"We will not comment specifically on the suit or pending litigation," the company said in a statement. "We are recalling all of the vehicles that were manufactured with the specific ignition switch involved in this condition."
Plaintiff Maciel alleges that GM knew about the ignition problems and kept turning out cars while fraudulently concealing the defects for as long as 13 years in the case of the 2003 Saturn Ion, which allegedly stalled during developmental testing in 2001. She cites GM's test drives, "incident" inquiries and service bulletins to dealers concerning some of the now recalled cars.
By 2004, a GM engineer concluded in writing that the Saturn Ion ignition had "a basic design flaw and should be corrected if we want repeat sales."
The 2005 Cobalt was a "sister vehicle" with the same key system, according to the Maciel lawsuit. The plaintiffs claim a GM engineer reported to GM that the engine had turned off and stalled when his knee bumped the key in a 2004 test drive. According to the complaint, after an investigation of why this happened in ordinary driving conditions, GM engineers came up with what they said was a "sure solution" -- change the key position on the lock module, and alter the ignition switch. GM said that would be too expensive, according to the suit.
Key Chain
The next year, a bulletin went to dealers telling them the ignition could inadvertently turn off, particularly if the driver was short and had a large heavy key chain. Such customers should be told to lighten their key chains, GM told dealers. It never said so in public, or to car owners, according to the complaint.
Two Cobalt deaths in 2005 are cited in the suit, with the contention GM opened about 15 "incident" files through 2009 after receiving reports of deaths or accidents. The 2010 Cobalts had a hole instead of a slot for the key, although GM didn't provide them to owners or lessees of earlier models, according to the suit.
Flawed Switches
Mark Reuss, GM vice president of global product development, said in a roundtable interview with reporters on March 18 at GM's headquarters that the automaker has already identified all the models that used the flawed switches.
"Where the switch was used in production, we have done a very accurate and complete read across," Reuss told reporters.
The defects have been linked to 31 crashes and 13 deaths, according to the San Francisco complaint, in which customers seek repairs plus unspecific punitive damages. GM revised the figure to 12 deaths as it said it had double counted.
Lance Cooper, a solo practitioner in Georgia who represents the family of a woman who died in a Cobalt crash in 2010, is one of the attorneys for plaintiffs in the San Francisco suit. He sent government regulators a letter last month saying there are more faulty GM models still on the road.
Six days later, on Feb. 25, the automaker more than doubled its recall to include other mid-2000s GM models, including Saturn Ions and Pontiac Solstices, saying their ignition switches could unexpectedly turn off if jostled by a driver or weighed down by a heavy ring of keys, cutting power to the engine and air bags.
The cases are Maciel v. General Motors, U.S. District Court, 14-cv-01339, Northern District of California (San Francisco), and Smith v. General Motors LLC, 41-cv-2014-900140, Circuit Court of Lauderdale County, Alabama.
Before it's here, it's on the Bloomberg Terminal.
LEARN MORE