GM Must Send 'Park It' Alert to Car Owners, Judge Told
Linda Sandler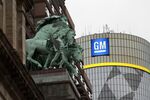 Plaintiffs in a lawsuit against General Motors Co. asked a federal judge in Texas to force the automaker to send a "Park it Now" warning to car owners not to drive recalled models until faulty ignitions are fixed.
Charles and Grace Silvas, who sued GM this month in a proposed class action for as much as $10 billion for the lost value of 1.6 million cars it recalled, filed the request two days ago with U.S. District Judge Nelva Gonzales Ramos in Corpus Christi. Courts can issue such orders if they are needed to prevent people from being harmed, they said in a filing.
GM has said it identified 12 deaths linked to vehicles with defective switches made in the mid-2000s, including some Chevrolet Cobalts and HHRs as well as Opel, Pontiac and Saturn models. The carmaker faces a criminal probe and an investigation by the National Highway Traffic Safety Administration.
"While GM proposes partial fixes, additional incidents of ignition switch failures will certainly occur," the plaintiffs said. "Injuries and fatalities are the inevitable consequence of such additional accidents."
The Silvas sued GM for allegedly concealing the defects and reducing the cars' resale price, not because of fatal crashes after shifting keys stopped the engines. They seek to represent other vehicle owners in a class action, or group lawsuit.
Detroit-based GM has declined to comment on lawsuits, saying it is focused on ensuring its customers' safety and peace of mind.
GM Chief Executive Officer Mary Barra told reporters March 18 that the recalled models are safe to drive while owners await the new parts, as long as the ignition key isn't weighed down with additional keys or other items on the ring.
Before it's here, it's on the Bloomberg Terminal.
LEARN MORE