Expedia Goes Mobile With Its New Home Page
By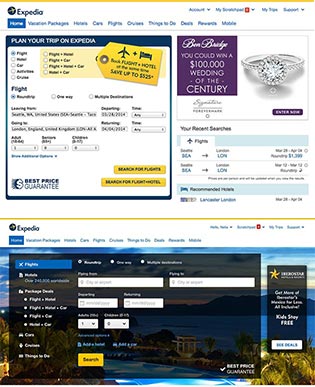 The new home page online travel agency Expedia unveiled today could be considered a tribute to the late Steve Jobs. It was conceived to service the world's rapid transition to mobile Web browsing and ditches a plethora of cluttered modules from the old site. Expedia also has chosen larger photography across its home page to incite wanderlust.
"When Apple came out with the iPad they completely changed everything," says Michael Gulmann, Expedia's vice president of global product, noting that "computers have gone from utilitarian to really a part of who you are. How do we give our customers the simplest, most beautiful inspiration for their travel?" Gulmann asks, channeling his inner Jobs.
Expedia began its redesign effort early last year with the principle that "the modern traveler is a mobile traveler," Gulmann says. The site's largest change is enlarging and moving the travel search box from its prior left-hand spot to a central location that dominates the top of the page. Expedia says the search box also loads twice as fast as the old one, in less than 1.2 seconds, swifter than other parts of the page with which most users don't initially interact. Peeks of the new look have been available for several weeks to roughly 20 percent of Expedia's users as part of the company's testing.
The iPad and scores of smaller "phablets" that make a larger telephone screen the new desktop for millions of people alters the basic paradigm on which Expedia and scores of other consumer sites have been designed—many people no longer sit at a desk before a PC or Mac screen. Increasingly, prospective travelers and others are on a sofa or bed with a tablet, and Expedia considered its prior design—circa 2002, with periodic tweaks since—a hindrance for a mobile world. "They want to immediately perform the search and get into that content," Gulmann says of browsers on mobile devices.
The new design also boosts the prominence of a "scratchpad" function that saves one's past searches and prices. Expedia says people search for a flight an average of four dozen times before they book it, making the prior fare and flight data more important. Expedia chose the larger photography because it "makes people more in the mood" to travel, he says.
Tablet users are more affluent and tend to spend more money on retail and travel sites, according to a study released today by Adobe Digital Index, which was compiled from data on 210 billion visits to 11,000 websites last year. The "best of the best" digital marketers in the travel and hospitality industry, which includes Expedia, see an average of 23 percent of their users arrive via smartphone, the Adobe Systems report says.
Before it's here, it's on the Bloomberg Terminal.
LEARN MORE