Dean Paul Danos Will Step Down After 20 Years Leading Tuck School of Business
by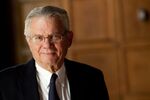 Paul Danos, the longest-serving dean in the history of Dartmouth College's Tuck School of Business, plans to end his tenure at the helm of the business school in June 2015 after 20 years on the job, according to a letter posted online.
"The MBA program at Tuck has never been stronger, with student quality indicators, employment levels, and compensation rates for our graduates among the highest in the world," writes Danos. "I'm excited to get back into classroom teaching, and to continue my writing and board work and participating in the great Dartmouth community."
Danos took over as dean of Tuck in 1995 after a stint chairing the accounting department at the University of Michigan. By the time Danos steps down, nearly half of Tuck's 10,000 living alumni will have graduated during his tenure, according to a press release.
That stands in contrast to the average tenure of deans at top business schools—which Danos said was about three-and-a-half years during an interview with Bloomberg Television's Tom Keene. Business school deans "should stay as long as they're productive and excited about it," Danos said at the time.
Danos's accomplishments at Tuck include expanding the faculty, launching new programs that included a Master's in Health Care Delivery Science program, and increasing executive education offerings, the press release says. Dartmouth President Phil Hanlon and Provost Carolyn Dever will form a search committee to engage faculty, students, and alumni in a search for his replacement.
Before it's here, it's on the Bloomberg Terminal.
LEARN MORE