Carnival Still Can't Steer Clear of Deep Discounts
By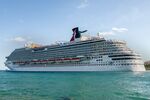 A year after "voyage disruptions," in the company-approved euphemism, crashed into Carnival's business, the largest cruise operator continues to fill its ships with the help of discounts that pressure the bottom line. Booking volumes for the rest of 2014 are ahead of last year's results, although ticket prices remain lower, Carnival executives said today.
The average passenger yields about 11 percent less revenue today than was the case before the 2008 financial crisis, which rocked the entire travel and hospitality industry. Carnival's slow recovery—punctuated by high-profile mishaps—comes amid a heavy build-up of cruise ships in the Caribbean this year, where the company is most heavily exposed. Overall, the cruise industry is boosting its capacity in that region by nearly 20 percent this year, and those trends have made analysts cautious.
Carnival shares dropped nearly 6 percent in morning trading, and the stock is down about 6 percent so far this year.
"Brand perception is most of the way back," Carnival Chief Executive Officer Arnold Donald said today on a conference call with analysts, with the company now addressing "perception recovery among switchers"—the small segment of seasoned cruisers who will sample a new brand if the price is suitably cheap. "We obviously still have a lot of work to do."
Part of that work is a broad review of the annual spending across Carnival's 10 cruise line brands, which Donald launched shortly after becoming chief executive in July. The company spends about $6 billion annually, not including fuel and employee salaries, and Donald wants to coordinate and centralize much of that procurement as a way to lower yearly expenditures.
Amid all the discounting Carnival has been forced to do following negative headlines for its Carnival and Costa brands, several analysts wondered if the cheap prices might become the new normal,  resetting consumer expectations. In other words, has Carnival's extensive discounting retrained cruise buyers to expect deals? "I don't worry about the consumer getting used to the lower prices," Chief Financial Officer David Bernstein said. "This has happened before. We saw lower prices in 2009 and the prices came back in 2010 and 2011. … This has happened a number of times in our history."
Carnival predicts a further breakeven performance for the second quarter, with an income ranging from a 2¢ profit to a 2¢ loss per share. Analysts had forecast a profit of 8¢ per share for the quarter.
In related news, the company's largest individual shareholder, Chairman Micky Arison, has sold about 5.7 million shares in the past month as part of a tax- and estate-planning program to divest 10 million shares over the next 15 months. Arison, who owns the Miami Heat, has collected nearly $225 million from the sales. The Arison family will remain the company's largest shareholder, controlling about a 24 percent stake in the Miami-based company, which was founded in the early 1970s by Arison's late father, Ted Arison.
Arison has made overtures about acquiring the Miami Marlins professional baseball team, according to recent news reports. A Carnival spokesman said today that Arison would have no comment.
Before it's here, it's on the Bloomberg Terminal.
LEARN MORE