America Movil Drops as Fee-Cut Proposal Threatens Profits
Patricia Laya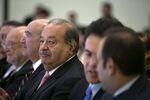 America Movil SAB, the phone giant controlled by billionaire Carlos Slim, tumbled on concerns that profits would suffer in its home market under a proposal sent to Mexico's Congress by President Enrique Pena Nieto.
If the bill passes, America Movil won't be able to assess fees to competitors for incoming calls or charge customers extra for long distance. The Mexico City-based company has about 70 percent of mobile-phone subscribers and 80 percent of landlines in Mexico.
America Movil, the heaviest-weighted stock on Mexico's benchmark IPC index, led declines as the shares fell 4 percent to 13.09 pesos at the close in Mexico City, for the biggest drop since Aug. 9.
"We assume a contraction in profitability as a consequence of asymmetric regulation," Manuel Jimenez, an analyst at Grupo Financiero Banorte SAB, said in a note today. "We've incorporated an erosion in Mexican revenue due to losses from long-distance calls over three years, as well as stronger competition between operators."
Shares Downgraded
Bank of America Corp. downgraded America Movil shares to neutral from buy, saying the law will hurt earnings. The company's profit in Mexico will decline by 15 percent over three years, Sanford C. Bernstein & Co. has estimated, as the industry opens up for foreign investment and more active competition.
Violating the new law would be punishable by fines of as much as 5 percent of sales, or double for repeat offenses. America Movil had sales last year in Mexico of about $22 billion.
The bill, which also affects television broadcasters such as Grupo Televisa SAB, is expected to pass in the current legislative session, Communications and Transportation Minister Gerardo Ruiz said yesterday.
The law requires a simple majority to pass, giving Pena Nieto enough votes through his political coalition for approval in the lower house, where his Institutional Revolutionary Party, or PRI, combined with the Green Party and New Alliance party, have a one-vote majority. In the Senate, the parties are three votes short.
'Unacceptable' Differences
The PRI will probably try to win more votes from the National Action Party, or PAN, and Democratic Revolution Party, or PRD, the two main opposition parties, said Duncan Wood, director of the Mexico Institute at the Woodrow Wilson International Center for Scholars in Washington.
The PAN and PRD said yesterday the bill has "unacceptable" differences from last year's constitutional amendment and must be changed. Pena Nieto's proposal would reduce the power of the Federal Telecommunications Institute, or IFT, the regulator created last year, according to the parties.
"This is not going to be passed as is, there are going to be some concessions made," Wood said in a phone interview. "The government really wants to gain a consensus and achieve a consensus position. They still want to build a coalition, they do not want to impose the will of the governing party."
The IFT has already declared America Movil and Televisa dominant in their industries because of their proportion of users. The new law would give the agency legal backing as it prepares measures to cut down on the companies' market power.
"With this law we will have more competition," Deputy Communications Minister Jose Ignacio Peralta told reporters yesterday in Mexico City. "The concentration we find in this market will be more balanced among competitors. It will give clarity to our laws, and it will incentivize new entrants."
Televisa Gains
Shares of Televisa, which had $5.8 billion in revenue last year, mostly in Mexico, rose 1.1 percent to 83.03 pesos. The company, owned by another billionaire, Emilio Azcarraga, gets about 70 percent of broadcast viewers.
"In our country the telecommunications sector has been characterized by high prices, generating low penetration of services and a deficient development of infrastructure necessary to provide them," Pena Nieto said in a preface to the bill sent to Congress yesterday.
As long as America Movil has more than 50 percent of subscribers, it won't be able to charge fees to competitors for incoming calls, Pena Nieto's bill says. Its rivals, such as Telefonica SA and Grupo Iusacell SA, will still be able to bill America Movil when its users call their customers. Eventually, when the telecommunications institute determines that competition has improved, it will phase out the interconnection fees altogether.
Profit Margin
The changes will cut America Movil's profit margin to 36 percent in 2020 from 44 percent last year, leaving out interest, tax, depreciation and amortization, Bank of America said today in a research note. Wireless market share will fall to 63 percent by 2020, it said.
Television broadcasters, meanwhile, will have to publish their advertising rates and stand by them regardless of who the customer is.
The IFT can fine companies as much as 5 percent of Mexican sales if they offer services without authorization or shut down services in locations where they're the only provider. Smaller fines can be assessed for violating interconnection requirements or blocking advertisers.
Steeper Fines
Previously, regulators could only fine as much as $500,000 for rules violations, or $1 million for repeat offenses. Antitrust fines were as high as 10 percent of sales.
TV broadcasters are limited to using 18 percent of their airtime for advertising, though they may increase that number if they use local production for programming. Each network must have an ombudsman to handle viewer complaints, and political propaganda can't be presented as news, the bill says.
While the proposal generally follows international best practices, the fines it plans are disproportionate and its requirements for infrastructure-sharing go too far, Televisa said in an e-mailed statement today. The bill doesn't go far enough in regulating America Movil's prices, the company also said.
Press officials for America Movil didn't return messages seeking comment.
Last year's constitutional amendment created the IFT and gave it powers to assess fines, set prices and even force asset sales if companies don't comply with the law. The amendment also made it harder to battle regulatory decisions in court, saying the IFT's decisions can't be suspended while they're being challenged.
Mexico has been trying to improve telecommunications competition for 20 years. Slim, the world's second-richest person, took control of the industry through the 1990 privatization of the state phone monopoly.
Legal Monopoly
The government let Slim operate a legal monopoly after the transaction before gradually introducing competition over the following decade. Rivals weren't able to match the reach of his network infrastructure with their investments, and regulators were then much weaker, assuring Slim's dominance was never seriously threatened.
Televisa is run by Azcarraga, its founder's grandson, and the company has loomed over Mexico's media landscape for half a century. Azcarraga's father, also named Emilio, was known as "The Tiger" for his combative style and built Televisa into a powerhouse by aligning his interests with the government during its period of one-party rule, famously declaring himself a "soldier of the president." The company faced little competition until 1993, when the government auctioned off a state-run channel to create TV Azteca SAB.
Before it's here, it's on the Bloomberg Terminal.
LEARN MORE