With Divergent, Lions Gate Finds Teens Heed Bad Reviews
By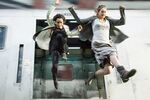 Lions Gate is still cornering the teen movie market, but its latest offering, Divergent, doesn't appear to have anywhere near the box office clout of its Hunger Games and Twilight franchises.
The film garnered an estimated $56 million in U.S. theaters this past weekend—a respectable pile if a bit less than expected. In the world of young-adult films, the take is a B or B-. The top of the class belongs to the first Hunger Games installment, which commanded $152 million in its 2012 opening, followed in the rankings by the seminal Harry Potter film ($90 million opening in 2001), and the first Twilight ($69 million in 2008).

Where did Divergent go wrong? Were the boys not cute enough? The girls not fierce enough? The angst not angsty enough? Apparently, none of those things was the problem. It simply wasn't a very good movie, according to critics. The film drew a 40 percent approval rating on RottenTomatoes.com, a Flixster property that aggregates criticism on a scale of 1 to 100. The first Hunger Games, in comparison, was widely lauded with 84 percent "tomatoes."
As a franchise that started with a series of young-adult books, Divergent also had a smaller fan base than its Lions Gate predecessors. There are about 13 million Divergent books in circulation, while Twilight and Hunger Games had about twice as many paper copies in the hands of consumers when they hit movie screens. Only about half of those who rushed to see Divergent for its opening weekend had read the book on which it was based, compared with almost three-quarters of those who rushed to see the big-screen debuts of Twilight and Hunger Games.
Perhaps that left the newest movie more susceptible to critical raspberries than the others. And there's also an argument that teens are more sensitive to harsh reviews than older moviegoers. It's not that young viewers are diligently parsing the critics, but bad word of mouth spreads much more quickly in the Snapchat demographic and is more likely to persuade young crowds to stay away en masse.
The harsh reviews and slow advanced ticket sales certainly spooked investors. Lions Gate shares have dropped by almost 9 percent since Friday morning, no rebound in sight.
Nevertheless, the film was by no means a flop and it appears that Lions Gate is moving ahead with a sequel, Insurgent, which will begin filming this summer and is scheduled to hit theaters in March 2015. Until now, the company had been in wait-and-see mode on that decision. "We've got kind of a blinking green light," Chief Executive Officer Jon Feltheimer said in early February.
That blinking green light, meanwhile, has likely shifted to the third installment.
Before it's here, it's on the Bloomberg Terminal.
LEARN MORE