Malaysia Airlines Has Been Missing Profits for Years
By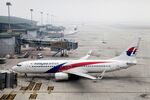 Long before one of its Boeing jumbo jets vanished into the tropical darkness, Malaysia Airlines was struggling to find its financial footing. The carrier has lost money for more than three years, beset by high costs, a proliferation of unprofitable new flying in its network, and two low-cost rivals at its home airport in Kuala Lumpur.
In 2013, Malaysia Airlines was one of the world's few unprofitable carriers, returning a negative 4 percent operating margin—worse than every airline in the world save two in India, according to income data compiled by Airline Weekly, an industry journal. Globally, airlines averaged a 5 percent margin in 2013, and U.S. carriers returned 8 percent. Malaysia Airlines has lost more than $1.2 billion over the past three years; this year is likely to produce more red ink.
The financial trouble has been exacerbated by the carrier's torrid expansion. Seeking to guard its market share from upstarts and capture premium traffic in the region, the airline added 21 new planes last year and boosted its system capacity by 19 percent. It also acquired the massive Airbus A380 superjumbo, a decision analysts criticized as a foolish waste of money given the jet's size and the company's inability to turn a profit with its current capacity.
To reduce costs, the airline has sporadically battled its unions and dropped several long-haul routes, including its final U.S. flight, which is ending next month. "They've done a lot, but in the end they're growing more quickly than almost any airline in the world without any evidence that there's the demand to support it," says Seth Kaplan, an Airline Weekly analyst.
The carrier is also contending with AirAsia, one of Asia's largest low-cost airlines, and an upstart that began flying a year ago called Malindo Air, a joint venture between Malaysian and Indonesian investors. Both enjoy an immense cost advantage over their larger rival and have introduced low fares into the regional market that have further hurt the 67-year-old incumbent.
The troubled company is also contending with a public relations furor in China, home to most of the 229 passengers on the missing flight to Beijing. Many in China consider the Malaysian response to the investigation inadequate, opaque, and laggardly. Although China accounts for only 7 percent of the carrier's capacity, compared with 24 percent for Europe, the enormous growth in Chinese tourism could spell trouble for the Malaysian carrier if Chinese travelers choose other airlines for their international trips.
The majority of parent company Malaysian Airline Systems is owned by the government's sovereign wealth fund, Khazanah Nasional. Last month the Business Times of Singapore urged Khazanah to put the airline into bankruptcy court to rectify its enormous cost burdens: a bloated headcount and "lopsided procurement contracts in a range of services from maintenance to catering." The newspaper suggested Khazanah could follow the path of Japan Airlines, which successfully restructured in bankruptcy four years ago. "Overstaffing, ridiculous union demands, and outlandishly skewed procurement contracts are the financial equivalent of having to fight with one hand tied behind one's back."
All the red ink, however, has not dented the quality of Malaysia Airlines' service. It remains one of only seven carriers given the highest rating by the Skytrax airline ranking firm, along with such companies as Singapore Airlines, All Nippon Airways, and Cathay Pacific.
Before it's here, it's on the Bloomberg Terminal.
LEARN MORE