Lance Armstrong Wins Dismissal of False-Advertising Suit
Edvard Pettersson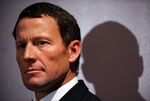 Lance Armstrong won dismissal of a lawsuit by buyers of FRS Co.'s energy drinks who claimed they wouldn't have bought the product if they had known it wasn't the "secret weapon" behind his Tour de France victories.
The consumers had been given a chance to fix flaws identified by a judge in their original complaint alleging they were duped by advertisements into thinking that FRS's drinks, rather than performance-enhancing drugs, were Armstrong's secret weapon. U.S. District Judge Beverly Reid O'Connell in Los Angeles dismissed the case on March 21 after the plaintiffs elected to appeal her initial ruling rather than file an amended complaint.
"The reasonable consumer would not make the inference that a healthy energy drink could be the proprietary reason a decorated cyclist achieves success," O'Connell said in a Feb. 25 decision that allowed the plaintiffs to revise their original claims.
A record seven-time Tour de France winner from 1999 to 2005, Armstrong was stripped of the titles by the U.S. Anti-Doping Agency. The cyclist acknowledged in a television interview with Oprah Winfrey last year that he used a "cocktail" of testosterone, erythropoietin and blood transfusions throughout his career.
Michael Berman, a lawyer for the lead plaintiff, said in a phone interview that the judge had erred in ruling on the allegations as a matter of law rather than letting a jury decide on the merits.
'Sports Fraud'
"This case stems out of the biggest sports fraud in history," Berman said. "The context here is important."
Given the circumstances of Armstrong's lies about his doping use and his role as part-owner of FRS and member of the board of directors, it was plausible that consumers could be confused or deceived by Armstrong's claims, which should have been enough to let the case proceed, Berman said.
In their Feb. 28, 2013, complaint, the plaintiffs alleged that FRS's television commercials claimed that the most important reason to buy the company's drinks was that Armstrong relied on them to obtain his "extra-ordinary strength, speed, energy and endurance."
"Call it 'legal opportunism' or 'kicking a guy when he's down' but whatever the label, the lawsuit was baseless and should never have been filed," Zia Modabber, Armstrong's lawyer, said in an e-mailed statement.
The same month that the Winfrey interview was broadcast, Armstrong was sued by buyers of his autobiography, "It's Not About the Bike: My Journey Back to Life," and a follow-up book, "Every Second Counts," over claims that both were works of fiction rather than Armstrong's true life story.
A federal judge in Sacramento, California, dismissed the claims in September, saying the publishers couldn't be sued because the content of the books is protected by the U.S. Constitution's First Amendment right to free speech.
The case is Martin v. FRS Co., 13-cv-01456, U.S. District Court, Central District of California (Los Angeles).
Before it's here, it's on the Bloomberg Terminal.
LEARN MORE