Former Yale President Levin to Lead Online Platform Coursera
Oliver Staley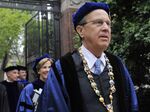 Richard Levin, Yale University's former president, was named chief executive officer of Coursera Inc., giving the online learning company the endorsement of a respected educator as questions mount about the future of open courses.
Levin, 66, who has been advising Coursera since January, will become CEO in April, the Mountain View, California-based company, said yesterday. Founded in 2012 by two Stanford University computer science professors, Coursera offers free courses from more than 100 universities, including Yale and Princeton.
Providers of massive open online courses, or MOOCs, such as Coursera and EdX, Harvard University's joint platform with the Massachusetts Institute of Technology, have swiftly signed up colleges as well as students worldwide. At the same time, professors have questioned how they will be compensated and who owns the course content. While doubts are natural for any new venture, the opportunity to spread higher education to millions made the job attractive, Levin said.
"I honestly didn't expect to be doing this," Levin said in a phone interview. "This just seemed too compelling an opportunity to resist. It so naturally followed my work as a university president."
Levin left New Haven, Connecticut-based Yale in 2013 after 20 years as president and almost 44 years associated with the university. Under his presidency, Yale increased its endowment to $20.8 billion, expanded overseas with a campus in Singapore and acquired a 136-acre health-care complex from Bayer AG. His lieutenants at Yale have gone on to run some of the world's most prominent universities, including MIT, Oxford and Cambridge.
Early Backer
Levin said he was an early backer of online education, and in 2000 Yale formed a partnership with Stanford and Oxford to provide courses to alumni on the Internet.
"It was too early, the bandwidth wasn't good enough to support interactivity and it didn't really take," he said.
In 2007, Yale put 45 lecture courses online and in 2013, became a partner of for-profit Coursera. Levin said his goal now is to help expand Coursera, which said in July it raised $43 million in financing led by GSV Capital Corp. to double employees, develop mobile applications and bolster global growth.
Having Levin at Coursera will help the company forge relationships with higher education institutions, co-founder Andrew Ng said in an interview.
"We always take the position that we want to partner with universities," Ng said. "Universities have the best content in the world. Having a former university president join us will only help us."
Credential Acceptance
While hiring Levin is a "coup," Ng said it wasn't done to make a statement to MOOC skeptics.
Part of Levin's job will be increasing revenue. Now, the company makes money from students only when they sign up to receive a certificate, for which they are charged $50 to $100, Levin said.
"Only a small fraction are taking up certificates, but we think over time that fraction could grow," he said, adding the company was considering other ways of making money.
The goal is for the majority of people who complete courses to pay for certificates and be able to use the credentials to find jobs, Ng said.
"One change we're starting to see is the broader acceptance of MOOC credentials," he said. "We're starting to see employers request MOOCs in job descriptions."
Jury 'Out'
For the universities and professors offering MOOCs, "the jury is still out," said David Chernoff, an astronomy professor at Cornell University who is teaching a MOOC called "Relativity and Astrophysics" via the EdX platform.
"Everyone is in a guessing game right now, trying to figure out what works and what doesn't work," Chernoff said. One thing that's clear is "it's a huge amount of time," he said. "It's much more time consuming than developing a class for normal semester meetings."
MOOCs have drawn criticism for their low completion rates, and their difficulty in reaching poor students. Professors also have concerns about how they are paid.
"Like any new thing, there's a wave of hype then there's a wave of reaction," Levin said.
Many of the people who enroll in classes are sampling them without any intention of finishing them, Levin said.
Revenue Sharing
"Signing up to take the class is like applying to college," he said. "The completion question is like the number of people who graduate from Yale, compared to the applicant rate."
Coursera shares the money it makes from certificates with the universities, Levin said, who then can compensate professors. At Yale, the money was divided according to the formula the university used for patent revenue, he said.
A survey last year, written up in the journal Nature found that most people taking free online courses worldwide are among the best-educated and wealthiest of the population, casting doubt on the idea that the classes will benefit the disadvantaged.
For Cornell, one of the motivations in joining EdX was simply not to be left behind on a new innovation, Chernoff said.
"This will be an experiment, like a lot of things on the Internet," Chernoff said. "We'll just have to see."
EdX yesterday named Wendy Cebula, a former executive at online printing and marketing company Vistaprint NV, as president and chief operating officer. Anant Agarwal, EdX's current president, will become CEO, according to an EdX statement.
Coursera said in October it will offer free online courses in more than 30 locations worldwide, mostly in developing countries. The classes will be available at some U.S. embassies where students can have access to reliable Internet and learn from local course facilitators.
Levin, an economist by training, is from San Francisco and went to Stanford as an undergraduate. His son Jonathan is an economics professor there. Being near family "is certainly an added attraction," he said.
Before it's here, it's on the Bloomberg Terminal.
LEARN MORE