China Link Waning Seen Ending Aussie-Kiwi Drop: Australia Credit
Candice Zachariahs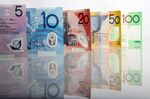 The Australian dollar's steepest decline versus New Zealand's currency in almost 20 years is seen drawing to a close as the larger economy seeks to wean itself from a dependence on China.
The Aussie traded at NZ$1.0636 as of 1:47 p.m. in Sydney, little changed in March following four months of losses. It slid 23 percent since touching a two-decade high of NZ$1.3796 in March 2011, falling to an eight-year low of NZ$1.0493 on Jan. 24. Traders are pricing in the chance of higher central bank borrowing costs in Australia, narrowing the discount for the nation's two-year swap rate against that in New Zealand to 1.09 percentage points, from a five-year high of 1.18 on March 14.
The Reserve Bank of Australia says the economy is showing increasing signs of responding to its record low cash rate, aimed at reviving housing, services and manufacturing as mines exporting to China slow their expansion. The Aussie may be as much as 6 percent weaker than it should be against the kiwi based on historical drivers such as differences in the swap rate and a gauge of relative commodity prices, according to analysis by the Commonwealth Bank of Australia.
"Those two measures are suggesting that the Aussie-kiwi cross rate has probably gone a little too far," said Peter Dragicevich, a currency strategist at Commonwealth Bank in Sydney. "If the Aussie data improves, like we expect, market pricing for when the RBA will raise rates may be brought forward as well, supporting Australian swap rates and the Australian dollar."
Converging Paths
Commonwealth Bank is among 12 forecasters predicting at least one rate increase from the RBA by Dec. 31, according to a Bloomberg News survey of 32 economists. The median projection is for a rise in the first quarter of next year.
The RBA will add 16 basis points to its 2.5 percent cash rate over the next 12 months, according to a Credit Suisse Group AG index based on swaps, compared with 3 basis points of cuts that were priced in on March 3. The Reserve Bank of New Zealand will increase its benchmark 122 basis points over a year, a separate gauge indicates.
Prospects for increases in Australia strengthened after the RBA shifted to a neutral policy bias last month and data from jobs to retail sales and housing construction signaled that the 225 basis points of easing implemented since late 2011 were having an impact.
Domestic Economy
"If the economy was to evolve broadly as expected, then the most prudent course was likely to be a period of stability in interest rates," RBA policy makers said in minutes of this month's meeting released March 18.
Reports this month showed consumer spending rose 1.2 percent in January, the most in almost a year, while employers boosted full-time payrolls in February by the most in more than 22 years. Approvals to build private dwellings numbered almost 50,000 over the past three months, the highest in the 30-year history of the series, Stevens told a parliamentary panel March 7.
"The Aussie economy looks to be strengthening domestically and, therefore, markets are pricing a small chance of rate hikes from the RBA which will be broadly Aussie-kiwi positive," said Geoffrey Kendrick, head of Asian currency and rates strategy at Morgan Stanley in Hong Kong. "It could be very slow and you may just keep getting stuck here for a little while," he said, predicting a move to NZ$1.09 by June 30.
The Aussie's decline from the March 7, 2011 high to an eight-year low on Jan. 24 is the largest peak-to-trough slide since it dropped 29 percent between February 1989 and July 1995.
China PMI
The currency was little changed today versus the kiwi and slipped 0.1 percent against the U.S. dollar following a private report that showed a Chinese manufacturing index unexpectedly fell. The Purchasing Managers' Index from HSBC Holdings Plc and Markit Economics dropped to 48.1 in March, the companies said today. The preliminary reading compares with the 48.7 median estimate of analysts surveyed by Bloomberg News and February's final figure of 48.5. Numbers above 50 signal expansion.
"The Australian economic story is decoupling a little bit from China and our economic success is less in their hands," said Thomas Averill, a managing director in Sydney at Rochford Capital, a currency and rates risk-management company. "That's probably why you've seen a more muted reaction to that number" in the Aussie, he said.
Priced In
New Zealand's central bank raised its key rate this month, becoming the first developed nation to exit record-low borrowing costs in 2014. The kiwi gained after Governor Graeme Wheeler said March 13 further increases are likely in coming months and the benchmark may rise by a total of 125 basis points this year. The RBNZ this month lifted its forecast for the 90-day bank bill rate, suggesting borrowing costs will rise more quickly than previously expected.
That forecast for bank bills is "more than discounted in the current value of the New Zealand dollar," said Ray Attrill, the global co-head of currency strategy in Sydney at National Australia Bank Ltd. "Even with that relatively aggressive trajectory, the New Zealand dollar could still soften later in the year," as the nation's terms of trade retreat about 10 percent and uncertainty emerges ahead of elections in September, he said.
"The currency markets are probably discounting a more aggressive RBNZ than the money markets are," according to Attrill.
Before it's here, it's on the Bloomberg Terminal.
LEARN MORE