There's Not Much TWC Shareholders Can Do About That $80 Million Golden Parachute
by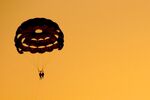 Last spring when Bloomberg News examined executive compensation, only two people were paid more than $80 million for a year's worth of running a company: David Simon of Simon Property Group made $137 million, and Oracle paid Larry Ellison $96 million. But not running a company can be a pretty lucrative undertaking as well, as Time Warner Cable reminded us on Thursday when it disclosed in a government filing that it would pay Rob Marcus, who has served as the company's chief executive since January, just under $80 million if its deal with Comcast is completed.
The ritual disclosure of the eye-popping golden parachute is an awkward moment in any large merger, and neither Time Warner Cable nor Comcast jumped at the chance to discuss it. When compared to other packages, Marcus's is larger than most but hardly unique. In 2012, the biggest severance payout went to James Mulva, then the soon-to-be-former CEO of ConocoPhillips; he got $156 million. Last year, at least a dozen executives had pay packages that include parachutes upwards of $100 million, according to an analysis by Bloomberg News. When Henrique de Castro left Yahoo! earlier this year after 14 months as chief operating officer, the company gave him a $64.6 million kiss goodbye.
Marcus's deal is notable for the amount of cash involved: He'll get $20 million, significantly more than anything paid out in 2012. This basically just gives him three years of salary all at once (and he also gets 36 months of company health-care coverage). Marcus will also get $56 million in stock and a final $2.5 million bonus based on how Time Warner Cable performs in its last few months as an independent company. "The amount is higher than you'll typically see, but this is one of the bigger deals you'll run across," says Aaron Boyd, director of governance research at Equilar.
Then there's the fact that Marcus has actually been negotiating this merger longer than he has been CEO. Marcus has been with Time Warner for well over a decade, but took over as chief executive this year. By that point he had been wrangling with Comcast and Charter for months. Somewhere in there his pay was negotiated, at a time when a takeover of some sort seemed inevitable.
Marcus will have to face Time Warner Cable's shareholders, who will get a chance to object. Part of the 2010 Dodd-Frank financial reform bill was the implementation of "say on golden parachute" votes, where shareholders voting on mergers have a chance to voice their opposition to the severance packages that come with them. Public companies are required to hold similar votes when deciding how much to pay executives whom they actually continue to employ, but the golden parachute votes are especially toothless. Given that they happen at the same time as the vote on the merger itself, shareholders' ire has little consequence: A successful merger means the end of the board itself.
Before it's here, it's on the Bloomberg Terminal.
LEARN MORE