The Strange Strategy Behind Turkey's Pathetic Twitter Ban
By and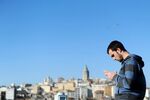 The Turkish government blocked access to Twitter on March 20, a move that did exactly nothing to curtail use of the service. The country blocked Twitter at the DNS level, which is not a particularly sophisticated or durable move. People in Turkey are now leaving instructions on how to get around the block as graffiti on bus stops. Twitter instructed Turks to get to the service using text messages. The Hurriyet Daily News points to data from Twitturk, which records Twitter use in the country. The data show that the number of tweets by Turkish users remains unchanged.
Zeynep Tufekci is an assistant professor at the University of North Carolina's School of Information & Library Science and the only person you need to follow if you are curious about the intersection of technology, politics, and the country of Turkey. She's written an entertaining timeline of how quickly Turkey's citizens got around the ban, but she also warns against assuming that Erdoğan is a crazy old man who doesn't get it.
Don't they know that the ban won't work? "Of course they know," she says. "And the idea that this is a government of idiots is nonsense. … This is not a Mubarak; this is not someone who's out of touch." She's referring to Hosni Mubarak, the former ruler of Egypt, who shut off access to the Internet completely in January of 2011. That didn't work, either.
After acknowledging that it's always good to pick a fight before an election, Tufekci speculates that what Erdoğan is really doing is is not banning Twitter so much as wooing it. "It's an act to get Twitter to come open an office in the country and behave," she says.
Every social network has to make hard decisions about new markets. The best way for a social network to expand its user base and make money in a new country is to be there—to open an office. Turkey has a larger Twitter penetration rate than any other country, according to the Financial Times. Google and Facebook both have offices there. Twitter does not.
To locate yourself physically in a country exposes you to the possibility of legal control. In February, Erdoğan signed a bill giving Turkey broad powers to block websites and content quickly. It's a censorship bill. It's what gave him the right to carry out a DNS block on Twitter yesterday. Twitter, Tufekci points out, has historically built a good record of resisting government control, in the U.S. or abroad. The company is "probably the least caving company out there of all the big ones," she says.
Seen this way, the DNS block, easily circumvented, makes sense as a first step in a long escalation. Erdoğan is showing that if Twitter is uninterested in doing business with him, he can make it difficult to do business in Turkey. And that he can take his time. Tufekci is surprised only by the timing of the ban; she had expected Erdoğan to wait until after he won his election.
Before it's here, it's on the Bloomberg Terminal.
LEARN MORE