Temasek in Talks to Buy Strategic Stake in A.S. Watson, WSJ Says
Klaus Wille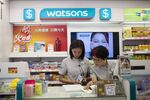 Temasek Holdings Pte, Singapore's state-owned investment company, is in advanced talks to purchase a strategic stake in A.S. Watson & Co., the retail arm of Hutchison Whampoa Ltd., the Wall Street Journal reported.
The size of the investment is not immediately clear and could be valued in billions of dollars, according to the report, which cited people familiar with the matter. The deal would be one of Temasek's biggest overseas investments, the report said.
The investment could put end to Hutchison's plans for an initial public offering of Watson, as Hong Kong's exchange forbids major shareholding changes within 28 days of the listing application, the newspaper reported.
Jeremy Lau, a spokesman for Hutchison, couldn't immediately be reached for comment. Jeffrey Fang, a spokesman for Temasek, declined to comment in an e-mail.
Hutchison, controlled by Asia's richest man Li Ka-shing, plans an IPO this year for A.S. Watson, selling about 25 percent of the division that has more than 10,000 retail stores worldwide, Managing Director Canning Fok said last month.
The division has a valuation of more than $20 billion, a person with knowledge of the matter told Bloomberg News in December.
With more than 1,000 stores in Europe selling perfume and cosmetics, A.S. Watson is the largest health and beauty company by sales. The retail division posted 11 percent increase in earnings before interest expenses and other finance costs, tax, depreciation and amortization to HK$14.2 billion ($1.8 billion) last year. Hutchison Whampoa plans to add 400 outlets in China this year.
Before it's here, it's on the Bloomberg Terminal.
LEARN MORE