pursuits
New Anita Hill Film Recalls When Sexual Harassment Went Mainstream
By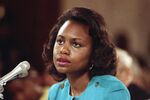 Twenty-five years ago, a University of Oklahoma Law School professor told the U.S. Senate Judiciary committee about the time her former boss put pubic hair on a Coke can. She talked about the kind of pornography he told her he watched, how he bragged about his penis size, and the 10 or so times he asked her on dates even though he was her boss. At one point, the nickname "Long Dong Silver" came up. For three days in October 1991, all anyone could talk about was Anita Hill, Clarence Thomas, and which one of them was lying.
There was a salacious absurdity to the Anita Hill hearings that, when we look back on them now, makes us cringe. Did we really listen to Senator Howell Heflin, Democrat from Alabama, ask a 35-year-old tenured law professor if she was "a scorned woman?" But sometimes it takes outrageous acts to force us to examine uncomfortable truths. For better or worse, Anita Hill forced America to start thinking about sexual harassment. On March 21, Anita: Speaking Truth to Power, a documentary by Academy Award–winning filmmaker Freida Lee Mock, will make us think about it again.
Anita chronicles Hill's decision to come forward with allegations against Clarence Thomas, the subsequent media frenzy that erupted, and what Hill has done since then. It mentions the Coke cans and porn names, of course, but the most interesting parts of the documentary lie in the details most of us missed the first time around. The film reminds us that Hill grew up at the tail end of segregation and went on to Yale Law School. She became the first black female tenured law professor at Oklahoma and currently teaches at Brandeis University. The film covers the points used by Hill's detractors—that she followed Thomas across two jobs, first at the Department of Education and then the Equal Employment Opportunity Commission, and had kept in touch with him professionally over the years—but it also lingers on the fact that she'd told colleagues and friends about Thomas' actions seven years previously, when they first occurred. "I saw the news stories about Anita Hill and instantly remembered the fact that she had told me about her deals with Clarence Thomas," John Carr, a retired partner at Simpson Thatcher & Bartlett who dated Hill in the early 1980s, says in the documentary. "I remember saying to myself, 'She's about to get creamed.'"
It's easy to forget that in 1991, sexual harassment was still a relatively new concept. The term didn't appear in the pages of the New York Times until 1975, and even then the paper took pains to explain, in bullet points, exactly what it entailed:
• "Constant leering and ogling of a woman's body;
• Continually brushing against a woman's body;
• Forcing a woman to submit to squeezing or pinching;
• Catching a woman alone for forced intimacies;
• Outright sexual propositions, backed by threat of losing a job;
• Forced sexual relations."
Within a few years, articles about the prevalence of sexual harassment were appearing in Time and Newsweek. Cultural shifts take a long time, of course, and for the most part people still didn't understand where the line of appropriate behavior had been drawn. Take what happened to a group of 13 graduate students at the University of California at Berkeley, who in 1979 reported that a sociology professor was repeatedly propositioning them and had written a negative letter of recommendation for one who turned him down.
"We were such novices about the whole concept that we spelled the word 'harassment' wrong in our complaint—we had two Rs," Ruth Milkman told me. Now a sociology professor at the City University of New York, she was one of the Berkeley graduate students. Berkeley's administration had limited experience with sexual harassment claims back then and wasn't even sure what the term meant. "I remember we were in some meeting with these very high administrative officials, and one of them asked us, 'So what is sexual harassment? If a teacher raped a student, that would be clear cut.' And one of my colleagues in the group said, 'Yes, and that would also be a crime.'"
Today Clarence Thomas is firmly in place on the U.S. Supreme Court, with lifelong tenure that has all but eliminated career threats. As a result, the partisan fury and politicking that surrounded Anita Hill's accusations are more or less moot and are barely discussed in the documentary at all. Instead, Anita focuses on the awareness movement that cropped up around Hill, in which she still today plays a part. After Anita Hill's accusations hit the news, former Vice Presidential nominee Geraldine Ferraro revealed that when she was an 18-year-old typist, her boss had harassed her so much that she'd quit. The day the Senate voted to delay Thomas's confirmation vote, more than 200 women rallied on the steps of the Senate in Hill's favor. And two years after everything was over, long after Thomas had taken the bench, the New Yorker reported that someone had scrawled on the Capitol Hill sidewalk,  "Anita Told the Truth."
In the 23 years that have elapsed since the hearings, Anita Hill has quietly but steadfastly stuck to her story. She now travels the country to speak to students about sexual harassment. "I made a deal with myself that I'd go out and talk about sexual harassment for two years. At the end of two years it'll be over, and I can go back to my commercial law and contracts," Hill says in the documentary, then pauses before adding, "We didn't fix it."
Maybe not. But she sure made a dent.
Before it's here, it's on the Bloomberg Terminal.
LEARN MORE