Netflix Just Opened the Door to Paying ISPs More Access Fees
By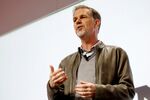 Netflix Chief Executive Officer Reed Hastings is seeking your help to keep Internet service providers from charging higher fees to stream all the video its customers watch. In the process, he may have just opened his wallet to any Cox, Time Warner Cable, Verizon Communications, or AT&T across the nation.
In a blog post on Thursday, Hastings said the company's recent decision to pay Comcast millions in access fees arose from a degradation of the cable provider's handling of Netflix data. That led to streaming glitches and other problems for Netflix customers, a situation that has also been reported by Verizon's FiOS customers. After its payment to Comcast last month, Hastings wrote, "our members are now getting a good experience again."
However, in the process of agitating for new, tougher net-neutrality rules, Hastings may have validated that same strategy for other ISPs: Throttle Netflix streaming until it's unwatchable, and wait for the video service to write you a check. Net neutrality means that the companies controlling the infrastructure of the Internet can't treat different kinds of Web activity differently. "Netflix believes strong net neutrality is critical, but in the near term we will in cases pay the toll to the powerful ISPs to protect our consumer experience," Hastings wrote.
Given the tone of the post—and the issue's high profile in Washington—Comcast responded swiftly, saying that companies such as Netflix "have always paid for their interconnection to the Internet" and can guarantee good performance for a fair price. "We are happy that Comcast and Netflix were able to reach an amicable, market-based solution to our interconnection issues and believe that our agreement demonstrates the effectiveness of the market as a mechanism to deal with these matters," Comcast Executive Vice President David Cohen said.
The issue of online gatekeeping by large ISPs has gained new attention following the Feb. 13 merger announcement by Comcast and Time Warner Cable. That deal is drawing regulatory scrutiny over the market power the enlarged Comcast would hold as the nation's largest provider of high-speed Internet access and whether that position could be abused to consumer detriment. Hastings did not mention the proposed merger in his comments.
In January, an appeals court sided with Verizon and dismissed equal-treatment rules the Federal Communications Commission adopted in 2010. That decision essentially freed ISPs to extract tolls from companies that send heavy data loads across Internet networks. "If this kind of leverage is effective against Netflix, which is pretty large, imagine the plight of smaller services today and in the future," Hastings wrote. The FCC has said it will examine the issue.
Daniel Ernst, an analyst with Hudson Square Research, told Bloomberg News that Hastings has enjoined a battle of public opinion, hoping that Americans who enjoy data-heavy services such as Skype, Netflix, and YouTube will demand lawmakers address the issue.
In the meantime, Netflix executives may be writing plenty more of those checks.
Before it's here, it's on the Bloomberg Terminal.
LEARN MORE