Is the Stock Market About to Go Totally '90s?
Wall Street analysts point out similarities between then and now, such as persistently low inflation and partisan gridlock in Washington.
Roben Farzad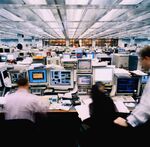 Early in 1992, Time magazine projected that the nascent economic recovery would be "one of the slowest in history and the next decade one of lowered expectations." That was the conventional wisdom and, at the time, seemed eminently reasonable. It also turned out to be completely wrong. The Internet and huge productivity gains propelled above-average economic growth and a rip-roaring, "Cult of Equity" bull market that surged into the year 2000. We spent and borrowed like mad and eased into fluffy college majors.