Former FreshDirect Delivery Workers Sue for Tips
by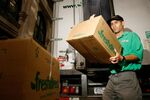 Have you ever mistaken the delivery fee added to your bill as a tip for the delivery person? Four former FreshDirect deliverymen claim this is a common misconception, and they're suing the New York grocery company, alleging that customers believe the delivery fee is a gratuity, when in fact it is retained by the company.
The plaintiffs claim FreshDirect's mandatory delivery charge, which starts at $5.99, should be considered a gratuity that's owed to the roughly 300 delivery people employed by the company. As a result, they allege that FreshDirect unlawfully takes in at least $23.4 million in gratuities each year. They also claim that the gratuity should be included when calculating overtime pay, which is at least 1.5 times their regular hourly rate.
In the growing debate about wages, company tipping policies are coming under scrutiny. A federal appeals court recently ruled that Starbucks baristas must split their tips with shift supervisors.
Federal and state laws allow employers to pay less than the minimum wage to workers who collect tips, as long as the amount they earn in tips makes up the difference. In the FreshDirect case, the plaintiffs all earned at least the minimum wage, ranging from $8 to $19.25 an hour, during their term of employment, as well as overtime. Yet as the Starbucks suit suggests, tipping is becoming a convention even for workers who already earn the minimum wage.
FreshDirect states on its website's frequently asked questions page that customers are not obligated to tip the delivery team but can do so if they feel they've received exceptional service. Delivery personnel are not allowed to ask for tips—and usually don't receive any.
Because customers believed they had already paid a gratuity, "the employees did not receive the amount in tips they would have received if Fresh Direct had properly explained to its customers the purpose of the delivery charge and did not allow its customers to believe the charge is a tip," Douglas Lipsky, an attorney representing the deliverymen, writes in an e-mail.
"FreshDirect works very hard to satisfy our customers and to provide a positive workplace for our employees," FreshDirect said in an e-mailed statement. "We are reviewing the complaint but are very comfortable with our practices and policies. We expect to resolve this issue in our favor."
Before it's here, it's on the Bloomberg Terminal.
LEARN MORE