Can Being Yourself Sink an MBA Application? I Go 'Undercover' to Find Out
Amy S. Choi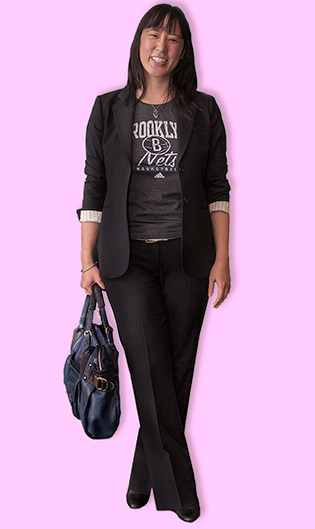 By late winter, most MBA candidates have applied to their schools of choice and are waiting for—or have received—the crucial e-mails inviting them for in-person interviews.
The number of prospects who get that chance ranges widely, but generally from 25 percent to 40 percent of applicants are offered an interview at any given program, according to consultants interviewed for this story.
The rush of relief that follows making the cut can soon be eclipsed by anxiety. What should you wear? Should you be funny or earnest? Will you be prepared enough? Can you over-prepare?
The interview is the second moment in the MBA admissions process, after the GMAT exam, in which your skills are tested on the spot. I already winged that test in the name of journalism. Now I want a first-hand look at the in-person meeting. New York University's Stern School of Business has agreed to put me through the interview process they reserve for their most promising candidates.
Although some top schools allow any candidate to request an interview, most will interview by invitation only. At Stern, all interviewees, with a few international exceptions, have to travel to its Greenwich Village campus to meet with an admissions officer. (Many schools have alumni representatives interview students around the country.) This time of year, the admissions team interviews 40 to 50 candidates a week.
At Stern, 20 percent of applicants—roughly 1,000 people—are given an opportunity to interview, says the school. From that group, around 700 will be offered a spot in the program.
"The interview process is typically to confirm a 'yes,'" says Alison Goggin, senior director of MBA admissions at Stern. "For the 30 percent of applicants that interview but don't receive an invitation, it means that there were already questionable elements to their application, but we wanted to see if the interview might change our minds."
The Preparation
I've scheduled my interview for 11 a.m. on a Tuesday, giving me plenty of time to review my notes and commute to campus. That morning, though, I face my first interview hurdle: getting dressed.
"Dress appropriately!" says Judith Hodara, former acting director at University of Pennsylvania's Wharton School and partner at Fortuna Admissions, when I ask her for tips. "Business or business casual."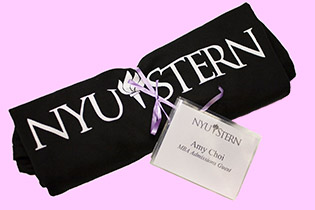 As a writer, my professional uniform is jeans. Business attire feels like a costume, and business casual has lost its meaning in the modern workplace. I own a few suits I haven't glanced at since before I had a baby nearly a year ago. I didn't want to feel like a fraud, so I compromise: a Brooklyn Nets T-shirt underneath a suit that (miraculously!) still fit.
The Interview
At Stern's admissions office, Goggin leads me to her office, where my résumé lays on her desk and a glass of water awaits me. I know enough to have double-checked the dates on my résumé and scoured it for typos. But MBA candidates should add memorization to their list of prep duties. "Know your application and résumé inside and out," says Dan Bauer, chief executive officer of MBA Exchange, an admissions consulting firm.
I flub Goggin's first question, a friendly conversation-starter: She has just gone skiing for the second time and loved it. What sport am I trying now?
Say what? Then I remembered: The "interests" section of my résumé lists "Learning new sports and avoiding injury: snowboarding, surfing, golf." I reviewed the summary, employment, and volunteering sections, but haven't touched "interests." While it's technically accurate, I haven't snowboarded or surfed in two years. I scramble to remember when I was last on a long board, crack some unfunny jokes about bobbing up and down like a buoy, and mention my family in Hawaii. My hands are getting clammy.
I might have been more succinct if I'd run through my answers at least once. "Practice out loud; otherwise you'll ramble and get boring," says Stacy Blackman, founder of Stacy Blackman Consulting, an admissions adviser.
Luckily, the next few questions are fairly typical: What are my greatest professional accomplishments? Challenges? Blackman recommends the STAR method for answering situational questions such as "Tell me about a professional hurdle." Discuss the situation, task, action, and result. This works like a charm.
Goggin asks what I would bring to the school and fellow students—and how a Stern MBA would get me closer to my professional goals. It's key to have a detailed understanding of the school's strengths, says Hodara. Admissions directors aren't going to ask you why you want an MBA, she notes. They are going to ask why you want an MBA at their school in particular. Says Bauer: This is the time in the interview to go beyond your résumé and application and do some strategic selling.
I talk about my startup, The Mash-Up Americans, and how I think Stern could give me the business acumen to run a successful media and consulting company. Here's my chance to show I've researched the school's ties to industry, display my eagerness, and highlight how I've gone from worker bee to freelancer to editorial director.
Goggin seems to like my answer. She tells me about NYU's various startup competitions, including the Entrepreneurs Challenge, which awards up to $200,000 annually. So what, she asks, is my 60-second pitch for the major investors I'd meet on campus?
For the second time in 30 minutes, I bungle an answer. I haven't quite honed my elevator pitch. This is obvious when my 60-second opportunity leads to three minutes of grasping for census numbers and media research. It's embarrassing.
After an awkward pause, Goggin takes pity on me and asks if I have any questions for her. I know this part is important. You don't need to ask profound questions of your interviewer, says Bauer, but they do need to show that you care and have done your homework; if it's a question that is answered on the school's website, find another one. I recover enough to ask how supportive the Stern community is of students who are parents, and how they'd make my husband and kid welcome on campus. I know NYU has a number of official resources. But what would it really be like for me, a mid-career 34-year-old mom, among 28-year-old executives-to-be?
After responding, Goggin wraps up and says I will hear soon. The whole process has taken half an hour.
The Verdict
My stumbling answers, Goggin tells me later, didn't necessarily rule me out. "It's been a long time since I've had a complete choke," she says. "That's bad. But if someone flops a few questions, that's okay. What we need to see is the foundation of a good candidate. If we know that we can coach you, that's generally good enough."
Would more practice have helped? Yes, but not too much practice. "Rehearsing answers can lead you into tricky territory," she says. "I can tell when I ask a question the interviewee hasn't prepared, and I see the wheels churning. Then—rather than answer what I've asked—they try to use an answer they've practiced, and that never works."
As for my choice of outfit, Goggin judges it risky, but all right. "I'm glad you wore a suit," she says. "Because you're in media and want to be an entrepreneur, the T-shirt showed personality. But I'd err on the side of more professional. If someone comes in casually dressed and says their career goal is to be a banker, we know that they don't really understand the industry. That's not a good indicator."
So what have I learned? Be professional, but show your personality. Practice, but not so much that you become an automaton. Show up with detailed knowledge of the school—and of your résumé. Mostly: Take confidence from having been invited. A decent interview is usually good enough, at least at Stern. "We sincerely do want to have a conversation and learn about you," says Goggin. "This isn't a job interview. It's an admissions interview."
Before it's here, it's on the Bloomberg Terminal.
LEARN MORE