A New Jersey Doctor's Quest to Build a Better Basketball Sneaker
by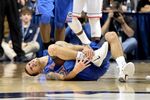 Over the weekend, millions of TV viewers tuning in to March Madness will likely watch a collegiate athlete rise for a rebound and land awkwardly, causing his ankle to roll over the outside of his shoe. The hoopster will writhe in pain, leaving the audience caught between fascination and the cringing impulse to look away.
Barry Katz, a professional radiologist and part-time inventor, may see a future customer. Since 2010 his Bridgewater (N.J.)-based company, Ektio, has been marketing what it says is a better basketball shoe. The sneaker, called the Breakaway, has a system of straps and outriggers designed to prevent ankle rolls, and retails for $130. The company has raised about $2 million in seed funding and inked deals with former NBA stars Rick Barry and John Starks, who talk up Ektio during media appearances. That leaves one big problem left to solve: finding customers.
Katz, 57, played basketball in high school and at Binghamton University. Decades later he got the idea for a shoe that would prevent ankle sprains. He was issued patents in 2004, but after some "feeble" attempts to license the design, Katz gave up on the idea. Not long after, he started an MBA through a distance-learning program at Babson College, thinking he'd work on the business side of a medical company. Instead, he founded Ektio in 2009 with some classmates and set to work entering what looked like a ripe market.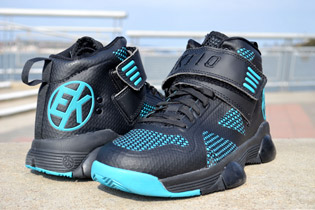 There are about 9 million ankle sprains in the U.S. every year, according to the American College of Sports Medicine, and 80 percent of those injuries are caused when the ankle rolls over the outside of the foot. A 2010 paper published by the Journal of Bone & Joint Surgery suggests that basketball accounts for 20 percent of all ankle sprains. In organized basketball, players tape their ankles or wear braces to supplement support from their high-top shoes. The average weekend warrior doesn't even do that.
But the market for basketball shoes has proved hard to crack. About two-thirds of shoes sold by retailer Foot Locker are made by Nike, as my colleague Kyle Stock recently reported. Those shelves that aren't filled by swooshes are generally stocked with sneakers from other large brands, such as Adidas, Reebok, or Under Armour. "The retailers know for sure that they're going to be able to sell the big companies' shoes," says Katz, who kept his day job as a doctor. "There's no reason to take a lot of risk on someone like me."
Instead, Ektio has sought customers online and tried its luck with retailers in other countries. There are stores in Japan that carry the Breakaway, Katz says. Still, the company has sold fewer than 12,000 pairs. "I have total belief in the concept, but I'm not getting rich off of it right now," he says. Ektio is also exploring partnerships with military suppliers and companies that make construction boots. Katz, meanwhile, is thinking about other products: He recently filed patents on technology for football helmets. "We think we've figured out the problem of why people get concussions," he says.
Before it's here, it's on the Bloomberg Terminal.
LEARN MORE