Will the Glut of New Planes Bring Down Airfares?
by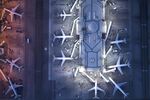 Airline finances have benefited radically in recent years from mergers, global alliances, and collective discipline in keeping capacity below demand. But as airlines around the world refresh their fleets with more fuel-efficient jets, the flood of new aircraft could ultimately lower ticket prices, according to a report from KPMG, the global consulting and audit firm.
The new airplanes, sporting carbon fiber composites and cutting-edge engines, offer lower operating costs to their owners. Yet the sheer number of orders on manufacturers' books—more than 8,700 from full-service and low-cost airlines—could trim whatever financial benefits airlines reap, said James Stamp, KPMG's global head of aviation. "Airlines have historically been good at chasing cost savings, but they tend to pass those on to their customers, because it is a very competitive marketplace," Stamp explained in an interview.
The industry's two largest manufacturers, Boeing and Airbus, are each sitting on more than eight years of production work. Airbus finished last year with more than 5,500 planes on order, and Boeing's backlog neared 5,100. (U.S. carriers accounted for $98.3 billion of new aircraft and engines on order at the end of 2013, according to Airlines for America, the carriers' trade group.) The new airplane totals include cargo, regional, and charter airlines, but the KPMG transport study focused on orders by two large segments of the passenger airline industry: low-cost players such as Spirit Airlines and Ryanair Holdings, and the full-service airlines such as Lufthansa and Emirates.
To be sure, not every aircraft in an order book will actually enter service in an airline fleet, and there are likely to be dramatic geographic differences in airline executives' views of how to add new capacity. Carriers across Asia, Africa, and India, for example, are positioning themselves for heavy growth from an emerging middle class expected to begin traveling by the millions in the next few decades.
In Western Europe and the U.S., meanwhile, mature airlines such as American, Air France-KLM, and Delta Air Lines are working to financially reward their shareholders—not customers—by boosting profits. Delta, for example, told investors in December that it's working to become a "high-quality industrial transportation company," akin to UPS and C.H. Robinson Worldwide. That would mean passing input costs to customers, returning steady cash, and taming the airline industry's vicious cycles.
"Aircraft orders don't necessarily translate to incremental capacity," says John Heimlich, vice president and chief economist at Airlines for America. "What will matter ultimately is how growth in seats compares to growth in passenger demand."
Stamp predicts that domestic routes in mature markets will continue to see stronger profitability than many long-haul routes where rapidly growing Middle Eastern carriers are expanding their fleets and grabbing market share. "Although we do view the order backlog with a healthy degree of skepticism … it is clear that more, newer capacity should act to drive down ticket prices," according to Stamp's report for KPMG.
Much of the global fleet growth and refreshment is focused on planes such as Boeing's 787 Dreamliner and 777X for long-haul travel and the 737 MAX, a replacement for its top-selling 737 family for short and medium routes. Southwest is scheduled to receive the first 737 MAX in 2017. At Airbus, meanwhile, long-haul customers are buying its new A350, which is predominantly made of carbon fiber materials. In the single-aisle market, Airbus sells the A320neo as a replacement for its longtime bestseller, the A320 family. The first A320neo is set for delivery in mid-2016.
"I'm not suggesting that in the U.S. we're going to see a collapse in prices, or in Europe. Not at all," Stamp said. All the same, he considers the airplane shopping spree "good news for travelers, absolutely."
Before it's here, it's on the Bloomberg Terminal.
LEARN MORE