pursuits
Oprah's New Favorite Thing: Starbucks's Howard Schultz
By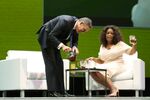 Howard Schultz deserves a victory lap. Six years ago he stepped back into the chief executive role at a struggling Starbucks with a $5 billion market cap. Today the Seattle-based company is a thriving $60 billion global giant with record profits and a reputation for innovation that goes beyond its cafes.
Schultz has managed to deliver those results while speaking out on same-sex marriage, Obamacare, and partisan politics in Washington. While some shareholders might prefer that Schultz keep politics out of business—and one unsuccessfully proposed just that at yesterday's annual general meeting—his efforts to tackle issues such as job creation and the income gap seem to have left the brand in even stronger shape. The latest proof: a new partnership with Oprah Winfrey to launch Teavana Oprah Chai Tea.
Schultz emphasized that the new tea, which will start selling at U.S. and Canadian outlets on April 29, is "not an endorsement deal." Maybe not, but it's certainly a powerful endorsement of Schultz himself. While Winfrey is well known for her annual list of favorite things, where Starbucks-owned Teavana appeared this year, she's never before put her name on a product she doesn't own.
Why this time? Well, getting a chance to personally develop her own tea brand might help. And she probably wouldn't have done it if all the proceeds weren't going to her foundation, which supports her school in South Africa and education nonprofits from Girls Inc. to the U.S. Dream Academy. But the most compelling draw for Winfrey seems to be Schultz himself. She spoke of being inspired by Schultz's hardscrabble childhood in Brooklyn housing projects and his efforts to elevate poor neighborhoods, which they talked about in a recent interview.
As she told Starbucks shareholders on Wednesday, lots of companies have approached her with noble opportunities over the years. She's featured plenty of brands on her show, even getting General Motors to pony up a Pontiac for each audience member a decade ago. Nobody knows the Oprah effect more than Winfrey herself, even if she no longer commands a prime spot on daytime TV. What drove her to put her name on a Starbucks product, it seems, is a genuine fondness for Schultz and his efforts to address what he calls the "fracturing of the American dream."
In doing so, she's attaching her brand to one that's on the rise and led by a man who has steadfastly refused to shut up about what bothers him in Washington (while simultaneously refusing to forgo hefty compensation for what the board considers to be a job well done). As Schultz told shareholders: "Starbucks Coffee Company did not open up the government. We did not reduce unemployment." But, he added, "we engaged. We have to raise our voice on things that we know need to be addressed."
Investors don't seem to mind, as long as Starbucks continues to perform at a high level and innovate in areas such as mobile payments. In fact, many openly applaud his willingness to take a stance on key issues. While they might not know what it means to view business "through a lens of humanity," they understand that Schultz isn't content to simply sell coffee. With Oprah Winfrey now teaming up with him in creating her own Starbucks brew, Schultz gets a powerful endorsement in the consumer realm, too.
Before it's here, it's on the Bloomberg Terminal.
LEARN MORE