Fallen Financier Jérôme Kerviel's Long Walk
Jérôme Kerviel walks to publicize the evils of money
By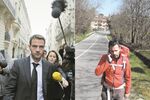 As long as Jérôme Kerviel keeps walking, he says he can forget about the €4.9 billion ($6.8 billion) loss that France's Société Générale says he's responsible for—and the three years of jail time he faces for the crime. "I thought about it every day for six years, but since I started this walk I haven't even once," he said as he made his way through forests, vineyards, and auto repair shops in the Tuscan countryside on an 870-mile trek from Rome to Paris. On March 19, France's highest appeals court upheld his conviction for the 2008 trading fraud, though it challenged the bank's assertion that Kerviel was solely responsible for the full extent of the loss. Despite that small victory, within a few weeks Kerviel will be ordered to start the prison term handed down after a 2012 appeal.
The 37-year-old former trader admits exceeding trading limits, faking documents, and entering false data into computers, but says his superiors turned a blind eye as long as his trades made money. He has argued that the loss was exaggerated as Société Générale dumped his holdings in a panic and surreptitiously added failing subprime mortgages to the total, attributing those losses to Kerviel. "When I first saw my face on a TV screen with a €5 billion loss attached, I had no idea what they could have been talking about," he says over morning coffee, rolls, and several Marlboros in a €50-a-night hotel outside Florence. "I still don't."
In a 2010 trial, Kerviel was found guilty of fraud. In the appeal decided on March 19, Kerviel's lawyer argued that prosecutors never did a detailed study of how Société Générale sold off the positions—a contention the court said warranted investigation. Jean Veil, a lawyer for the bank, calls claims that SocGen hid losses in Kerviel's positions "pure invention" and has no comment on Kerviel's walk from Rome. A new trial will decide what share of the billions lost Kerviel must repay. In any event, SocGen has said it doesn't expect to collect.
Kerviel, a native of Brittany who rose through the ranks to SocGen's trading floor without attending an elite school, has become something of a folk hero in France. After the 2008 loss, he had a fan club, and supporters produced a comic book and T-shirts. French TV has run extended reports on his walk from Italy, and a Facebook page created for it has 5,700 "likes" and garners dozens of supportive comments a day. "He impressed me with how serious and friendly he is," says Filippo Falugiani, owner of the hotel where Kerviel bunked in Bargino, a village where the vineyards of Chianti start to give way to the suburbs of Florence. "I can't believe he can be solely responsible for the loss."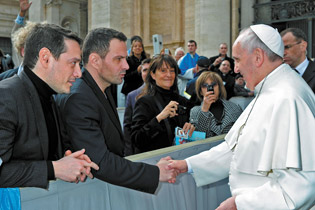 Kerviel says his two-month hike isn't aimed at gaining sympathy or keeping him out of jail. "I'm not trying to manipulate the justice system," he says. Instead, Kerviel insists he is on a personal journey and wants to publicize Pope Francis's November attack on the "tyranny" of financial markets. "I was both a participant in and a victim of the system he denounced," he says. "His message spoke to me." Kerviel, who describes himself as a believer but not a practicing Catholic, says he met with the pope in Rome, and his Facebook page shows a photo of him shaking the pontiff's hand. The Vatican says it has no record of the meeting and that it was fleeting at most.
Since starting on Feb. 24, Kerviel has covered 10 to 20 miles a day, with a friend in Paris planning the route and reserving rooms in homes or cheap hotels. His expenses have averaged about €40 a day, all of it lent by friends. He's grown a beard and picked up a tan, and his three-pack-a-day smoking habit is down to less than one. It snowed in the mountains of southern Tuscany, but the weather turned springlike the second week of his walk. Near Siena, Kerviel's GPS steered him onto a highway where carabinieri stopped him. They were so amazed by his tale of losing billions of euros that they let him off without a fine. "They got a good laugh out of it," Kerviel says as cars whiz by him a few days later.
Although Kerviel would be long out of jail if he hadn't appealed, he says he has no regrets about fighting to clear his name. "I won't take the train back to Paris, but I won't resist if Italian authorities come for me," Kerviel says a few days before the March 19 decision. "I just hope I'm allowed to finish what I've started."
BOTTOM LINE -
The bottom line: After losing his appeal, Kerviel is facing a three-year prison term for his role in a $6.8 billion trading loss at Société Générale.
Before it's here, it's on the Bloomberg Terminal.
LEARN MORE