China's 'First First Lady' Borrows From Michelle Obama's Playbook
By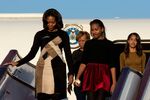 Michelle Obama started a weeklong visit to China today, and she is scheduled to take daughters Malia and Sasha as well as her mom, Marian Robinson, to visit the Great Wall, the Terra Cotta warriors in Xian, and a panda reserve in Sichuan. Their host is Peng Liyuan, China's First Lady, who will escort them to the Forbidden City and hold a private dinner in Beijing, according to the official China Daily newspaper.
The visit should make for a nice spring break for the Obama girls and might help improve Sino-U.S. ties ahead of a scheduled meeting between Presidents Obama and Xi next week in the Netherlands. For China, though, showing Michelle Obama the sights provides a chance for Peng to expand a role that wives of earlier Chinese leaders have traditionally shunned: First Lady.
Before Peng, the wives of Chinese leaders kept low profiles, no doubt influenced by what happened to the last spouse who dared take on a public role, Mao's third and last wife, Jiang Qing. Unwilling to risk the Communist Party's credibility by blaming the Great Helmsman for the years of mayhem he unleashed with the Cultural Revolution in 1966, Chinese leaders instead said the real villain was Jiang, a former movie actress who married Mao in 1938, and her lackies in the Gang of Four. Ever since, the wives of Chinese leaders have stayed out of the spotlight.
But after Xi Jinping became president last year, that has changed. His wife was already famous, with a successful career as a pop singer, and since becoming first lady she has traveled with her husband and won raves for her stylish wardrobe. Peng also broke ground with—shock—a public display of affection during a visit to Russia: holding her husband's arm as they got off the plane in Moscow. Peng "is the first First Lady in [China's] history," Cheng Li, senior fellow and expert on Chinese politics at the Brookings Institution, told my colleague Christina Larson last year.
China's sudden interest in presidential wives corresponds to the desire to wield more cultural influence worldwide. This focus on "soft power" has led to the promotion of Chinese media worldwide, with CCTV expanding in the U.S. and other countries. The country's cultural mandarins have made tentative efforts to build popularity for Chinese performers. See, for instance, this story by me and my colleague Susan Berfield on a Chinese pop singer's attempts to build a following in the U.S.
No wonder the Chinese envy the way American first ladies have become worldwide celebrities. Women such as Michelle Obama and Hillary Clinton have the ability to shape opinions about the U.S. that no Chinese woman can match. At a time when China's neighbors are worried about the country's huffing and puffing about territorial disputes with Japan, the Philippines, and others, the Chinese could use a goodwill ambassador with the ability to influence feelings about the country.
Hence the growing interest in presidential spouses. Ahead of Michelle Obama's visit, the China Daily ran a feature on "some of the world's most memorable First Ladies," putting Peng Liyuan first. And not surprisingly, the state-controlled newspaper finds the president's wife to be quite an accomplished woman, thank you very much.
"For a person's art to win the hearts of all, from heads of state to housewives, people of different cultural backgrounds, different ages, and different races, it's very difficult," according to Yuan Dewang, a director at state-controlled China Central Television. Not to worry, though. China's First Lady is up to the task. "I think Peng Liyuan has done just that."
Before it's here, it's on the Bloomberg Terminal.
LEARN MORE